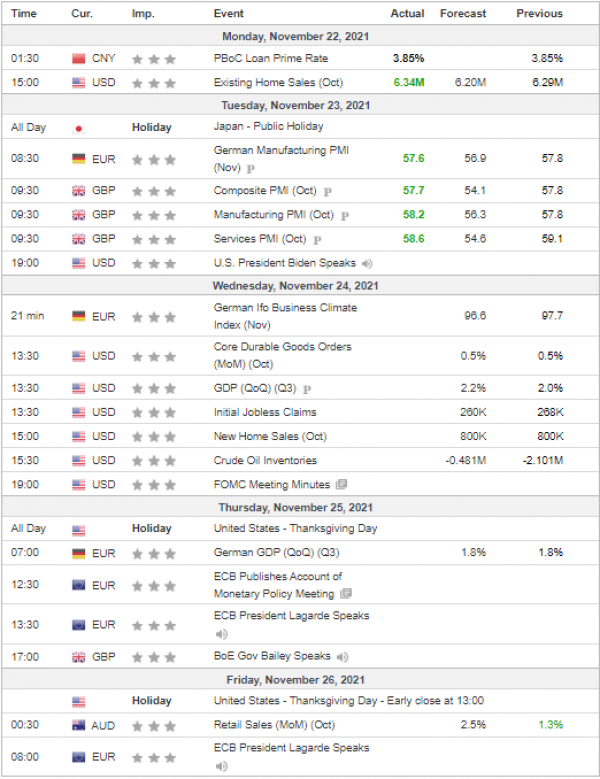 The dollar pushed higher against a basket of other currencies over the week and the trend continued after the Biden administration announced on Monday that Jerome Powell will have his mandate renewed for another 4 years as Fed Chair. Powell beat Fed Member Brainard who will serve as Deputy Chair, who was seen as the more dovish candidate of the two.
A full lockdown in Austria which began on Monday and rising Covid numbers in Germany put the Euro under pressure and saw the Eurodollar currency pair hit a sixteen-month low.
Last week, the British pound bounced back from the previous week's lows after Bank of England governor stated that last month's decision to hold rates was a close one. Investors are now pricing in a hike in UK interest rates in December.
The USD/JPY continued to rise and hit its highest level since March 2017. The US dollar index surpassed 96 points and is at the highest level in almost two years.
Gold prices grew and hit a five month high before a dramatic reversal on Monday this week after Jerome Powell's re-nomination as Fed Chair on Monday. Investors are currently pricing in a rate hike in the first half of next year due to high US inflation and improving employment numbers.
US indexes were volatile but rose as the economic outlook for the US remained positive, despite fears over high inflation. The Biden administration managed to push through its 1.75 trillion-dollar build back better bill in the House which supported markets, although it faces opposition in the Senate from Republicans and some democrats.
Oil prices continued to retreat last week after the United States announced it intended to release some of its oil reserves and called upon Japan, China and India to release their own reserves. The Austrian lockdown also encouraged some selling on worries that oil demand in Europe may lessen.