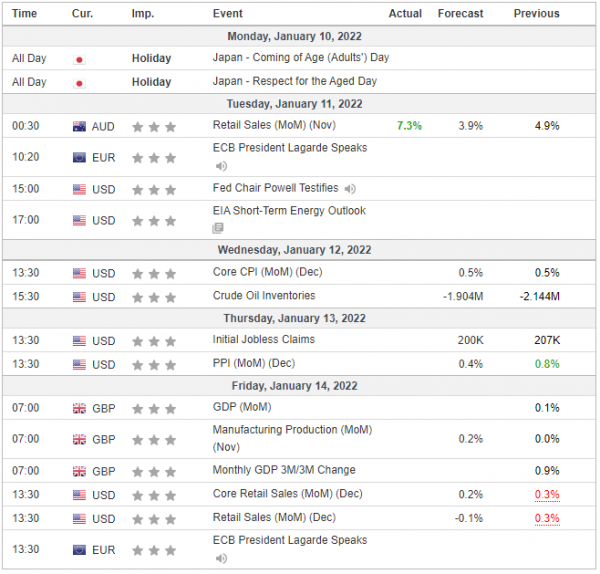 The euro continued to trade in a narrow range against the dollar. Market participants assessed the timing of the rate hike and the number of increases this year. The British pound rose to its highest level versus a receding dollar in almost 10 weeks, supported by expectations that the Bank of England will raise interest rates further.
The USD/JPY retreated from the highest level posted last week as the spiking numbers of (Omicron) Covid-19 cases worldwide worsened investors' sentiment. Overall, the US Dollar Index lost its traction on profit taking momentum.
Gold prices were little changed still trading around the $1,800 level. High inflation and worries over the spread of the Omicron variant provided a boost to the yellow metal price, while the opportunity cost in terms of foregone (rising bond) yields continued to weigh on gold.
US stock indexes fell after Goldman Sachs stated that it expects the US Federal Reserve to hike interest rates four times in 2022. However, earnings season is ready to kick off. On Friday, the first to report Q4 results will be Citigroup and JP Morgan.
Oil prices rose supported by tight supply and hopes that rising coronavirus cases and the spread of the Omicron variant will not derail a global demand recovery. The civil unrest in Kazakhstan also helped WTI oil prices touch $80 a barrel. Oil gained some support from an outage in Libya but the resumption of supply from there was a drag on oil prices on Monday.