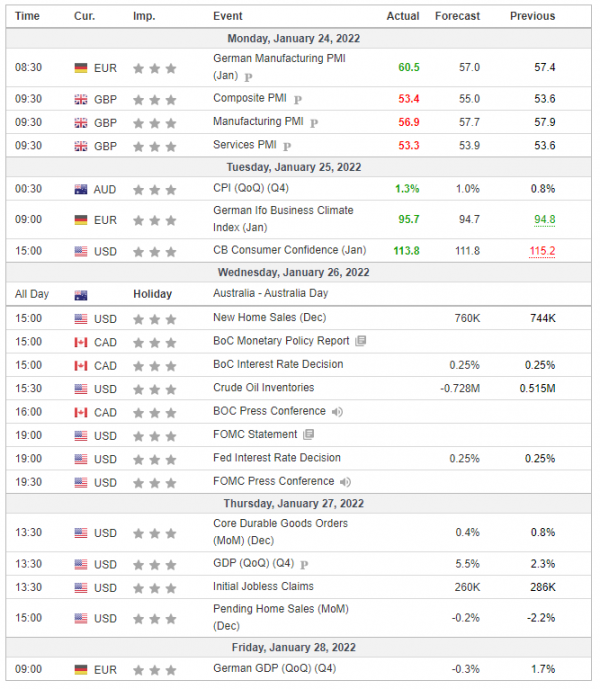 Safe-haven flows continued to dominate the financial markets amid escalating geopolitical tensions and concerns over an aggressive stance of the US Federal Reserve ahead of its Wednesday's meeting. European Central Bank President Christine Lagarde said that the ECB does not see signs of wages being bid up and noted that the euro area is not likely to face the same inflation as the US. This dovish message, in addition to the prevailing risk-off sentiment, sent the euro down against the dollar.
The British pound fell against the dollar. Bad PMI numbers on Monday accelerated the decline of the British currency.
The Japanese yen strengthened against the dollar. In addition, China's Commerce Ministry stated in a statement on Tuesday that China was facing a "grim" foreign trade situation this year.
Gold prices took advantage of high inflation and falling US Treasury bond yields but the prospect of monetary policy tightening in the US has kept those gains capped.
US stock indexes were in free fall on expectations that the US Federal Reserve will take an aggressive stance towards raising interest rates at its meeting on Wednesday. However the earnings season is in full swing. Tesla will report its Q4 results on Wednesday and Apple on Thursday.
Oil prices were little changed, retreating after they reached the highest level since 2014. Growing tensions between Russia and the Western allies over the situation in Ukraine continued to exert upward pressure. In the Middle East, Yemen's Houthi movement launched an unsuccessful missile attack at the United Arab Emirates on Monday. All this fueled concerns over possible supply disruptions in an already tight market. However, the strengthening of the dollar and sell-off on stock markets pulled oil prices down on Monday and Tuesday.