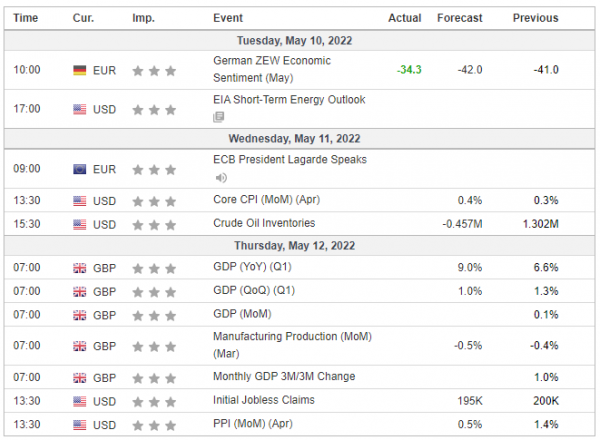 The euro was little changed against the dollar. The European Union is still considering whether and how to impose sanctions on Russian oil imports, while The British pound continued to weaken. The Bank of England meeting didn't help the pound as the UK central bank sent a gloomy picture of the British economy after its monetary policy meeting last Thursday.
The Japanese yen hovered around the 130 level. Bank of Japan Executive Director of Monetary Policy, Shinichi Uchida, said that the Bank of Japan must continue to support the economy with monetary easing. The benchmark 10-year US Treasury bond yield rose above 3%.
This pushed gold prices lower, while Chairman Jerome Powell provider a temporary breather as he ruled out a 75 basis point hike in June. However, rising inflation all across the world provides strong support for gold.
Last week, all major US stock indexes tanked. The earnings season is coming to an end, while the US Federal Reserve decided to hike its interest rate by half a percentage point to the range 0.75%-1%, in line with market expectations. However, market participants are pricing in an aggressive monetary policy outlook by the end of this year pulling down stock markets.
Oil prices dropped last week as coronavirus restrictions in top oil importer China, a strong dollar and growing recession risks fed worries about the outlook for global oil demand. Oil prices were initially boosted after the European Commission proposed a phased embargo on Russian oil. However, agreement among EU member states has been delayed amid requests from Hungary, Slovakia and the Czech Republic for exemptions and concessions.