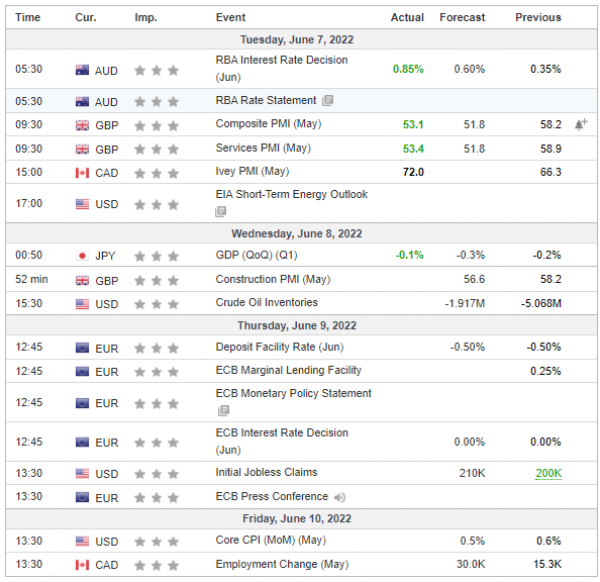 The euro was little changed against the dollar falling below 1.07 levels. The European Central Bank is set to meet on Tuesday. The normalization of monetary policy in the euro zone in the second half of this year is awaited and provides background support for the shared currency. The EU decided to impose new sanctions on Russia, which include ban on over 90% of oil imports by the end of this year. Some EU leaders believe this measure will take a heavy toll on the EU economy and the living standards of Europeans.
The British pound weakened against the dollar. British Prime Minister Boris Johnson survived the no-confidence vote in the UK Parliament but 148 members voted against him and history suggests that its highly likely that he will not lead the country by the next general election in two years' time.
The Japanese yen weakened sharply. Bank of Japan Governor Kuroda said that a weak Japanese yen would be beneficial for the economy if fluctuations in exchange rates were not too sharp. The 10-year US bond yield rose above 3% and the dollar index recovered after it posted big losses the week before.
Gold prices continued to trade in a narrow range around the 1850 level. Worries about an economic slowdown and speculation about aggressive monetary policy of major central banks alternated, providing limits for gold prices in both directions.
All major US stock indexes were little changed. Some investors took the opportunity to buy discounted stocks. On the other hand, US bond yields accelerated bolstering the case for a quicker interest rate hike by the US Federal Bank, thus, easing stock prices. Fresh US CPI figures for May are expected on Friday and are the key economic focus this week.
Oil prices rose were little changed. They first rose on expectations of demand recovery in China and doubts about higher output targets from OPEC+. The U.S. State department authorized shipping of Venezuelan crude to Europe from July to replace lost Russian barrels, which weighed on prices.