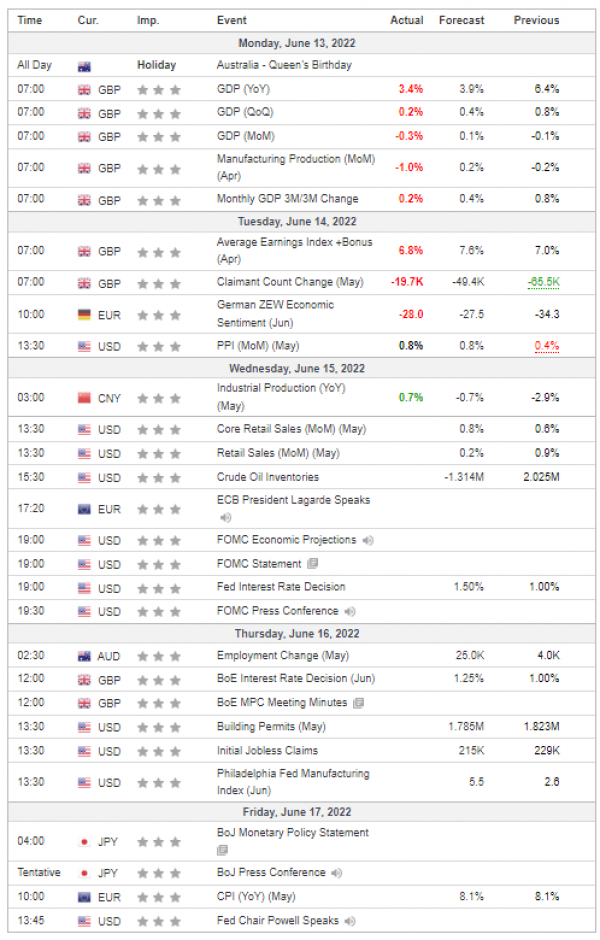 The Eurodollar pair dropped towards the end of the week after US CPI Inflation figures came in at 8.6%, higher than the expected 8.3%. Treasury yield rose sharply, as did expectations of sharper interest rate hikes this week and in the coming months.
The GBP/USD fell as the dollar pushed higher against a basket of other currencies and economic data from the UK remained below expectations. In the UK, amid a cost of living crisis, Boris Johnson's government also decided to rewrite laws governing the Northern Ireland protocol previously agreed with the European Union. The EU was not impressed and stated it may take measures of its own.
The USD/JPY continued to hit repeated 20 year highs with the prospects of further Fed rate hikes, while the Japanese central bank has undertaken to maintain its easy policy, for now at least.
Gold had an extremely volatile week moving lower, but hitting both a three week low and a one month high as traders moved between optimism and negativity about the prospects of inflation and rate hikes. Meanwhile the war in Ukraine rumbles on with no signs of peace on the horizon.
US Stocks fell sharply last week with traders selling off on Friday in particular after US CPI data. It was the second worst performance over a weekly period so far this year and early this week the S&P 500 officially entered a bear market.
Oil prices fell last week, losing all their gains late on Friday after US Inflation data was published as traders consider whether higher interest rates could trigger a recession which could see a decline in future oil demand. Renewed restrictions in China due to Covid also had a negative impact on oil prices late in the week.