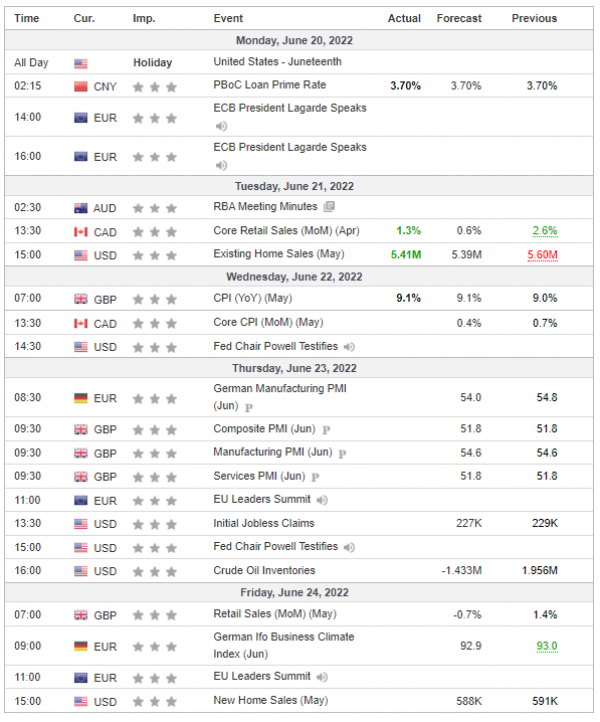 After bottoming last week, the euro recovered against the dollar. On Monday, while testifying before the European Parliament, ECB President Lagarde noted a recession in the euro zone was not their baseline scenario and confirmed that they intend to raise key rates by 0.25% in July and again in September". ECB Governing Council member Olli Rehn said on Tuesday that it was very likely that September rate hike would be bigger than 0.25%.
The British pound consolidated against the dollar after sliding at one point last week below the 1.20 level. The rising cost of living in the UK, unresolved issues with the EU over the Northern Ireland Protocol and difficult times in the (unstable) premiership of Boris Johnson add to the problems list for the British pound.
The Japanese yen is in free fall against the dollar as the 10-year US bond yield rose at almost 3.5%. Overall, the dollar strengthened after the US Federal Reserve unexpectedly decided to raise its interest rate by 0.75%.
Gold prices traded in a narrow range but slightly below the level of 1850. Worries about a world economic slowdown and aggressive monetary policies of major central banks prompted volatility but in a narrow trade range.
All major US stock indexes slumped last week after the US Federal Reserve decided to increase the federal funds rate by an unprecedented 0.75%, pointing to another likely increase again in July.
Despite concerns over economic growth, which pulled oil prices lower last week, latest data on flight activity and mobility on U.S. roads continues to show strong oil demand. Tensions between supply concerns and uncertainty over global growth are two opposing forces for oil prices. WTI oil price traded around 110 dollars per barrel.