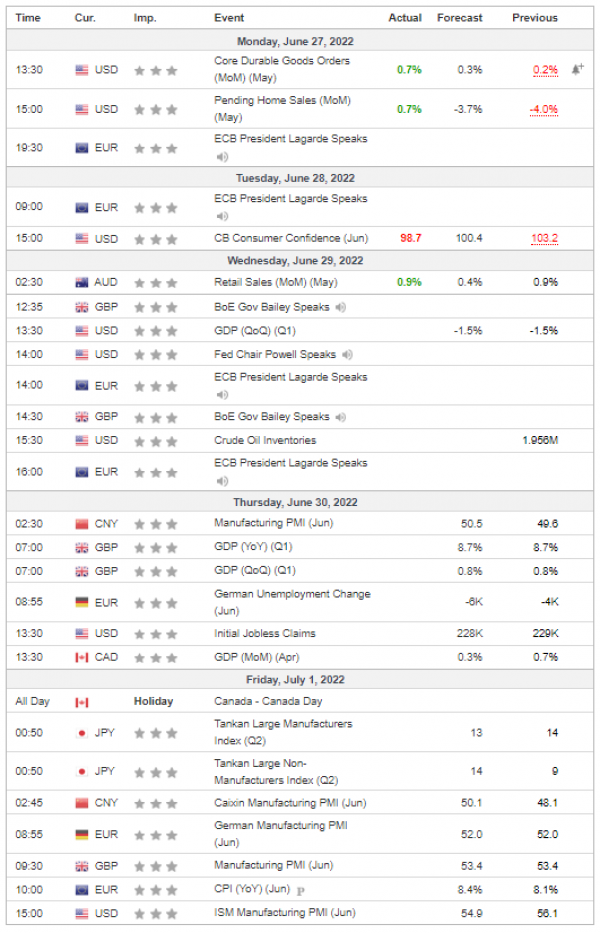 After bottoming last week, the euro slightly rose against the dollar. The highlight for markets this week is ECB Forum held in Portugal attended by the heads of major central banks. The ECB may unveil a new bond-buying scheme to cap yields/spreads at its July policy meeting.
The British pound barely changed against the dollar remaining subdued. UK Foreign Minister Liz Truss said that the UK won't rule out using Article 16 further down the line. The Northern Ireland protocol bill passed its first hurdle despite heavy criticism from some Conservative backbenchers, including former Prime Minister Theresa May, who said the move is illegal and unnecessary.
The Japanese yen consolidated against the dollar confirming its long-term weakening. Overall, the dollar index traded below 103 points amid a slightly positive shift in risk sentiment and higher yields.
Gold prices traded in a narrow range around the level of 1830. Worries of the economic slowdown in the world and aggressive monetary policies of major central banks prompted volatility but in a narrow trade range.
All major US stock indexes recovered last week after a big slump the week before. The Dow Jones Industrial Average rose 5%, the S&P 500 jumped 6% to snap a three-week losing run, and the tech-heavy Nasdaq Composite gained 7%.
Oil prices rose last week after the prospect of even tighter supplies loomed over the market as the Group of Seven nations promised to tighten the squeeze on Russia's oil exports. Adding to the supply woes, Libya and Ecuador signaled a potential reduction in global supply due to political unrest and difficulties in their respective countries. On Tuesday, WTI price traded above the 110 level again. OPEC+ is meeting on Thursday to discuss production quotas.