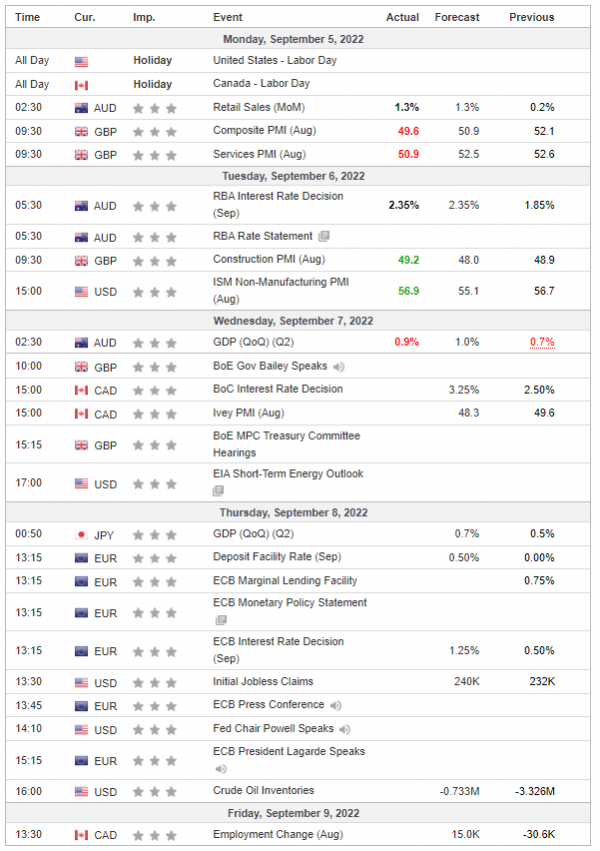 The euro continued to fall against the US dollar. There was an initial recovery caused by the expectation of the ECB increasing interest rates on Thursday's meeting. The recovery evaporated under the pressure of the strengthening USD. Last week, Fed Chair Powell spoke at the Jackson Hole Symposium and signaled that rate hikes would continue until inflation was under control.
The British Pound fell to the lowest level since 1985, as a reflection of UK's grim economic situation. Uncertainty over both the economic policies the U.K.'s next prime minister will enact and the Bank of England's ability to control sky-high inflation are compounding the pound's weakness. Goldman Sachs warned U.K. inflation could top 22% next year amid spiraling energy costs.
The USD/Yen is at a fresh two decades high. The Bank of Japan remains determined about maintaining loose monetary policy, while the rest of the biggest central banks in the world start increasing interest rates. As such, with rate differentials continuing to move against the Yen, the currency has thus found little in the way of support.
Gold prices modestly recovered from last week fall as tensions rose due to the energy crisis in Europe. The Strong US dollar still creates downward pressure on gold prices with investors looking to the Jerome Powell speech on Thursday.
US stocks traded lower throughout much of last week, before making a sharp move lower on Friday. Investors continued their selloff with the prospect of interest rate hikes continuing and remaining elevated for an extended period of time.
Oil prices remain under the pressure, as concerns returned about weaker demand and the prospect of more interest rate hikes, overshadowing support from OPEC+'s first output target cut since 2020. On Monday, OPEC+ decided to cut their October output target by 100,000 barrel per day. Signs that an agreement to resurrect Iran's nuclear deal with world powers was less imminent and offered support to the crude oil price.