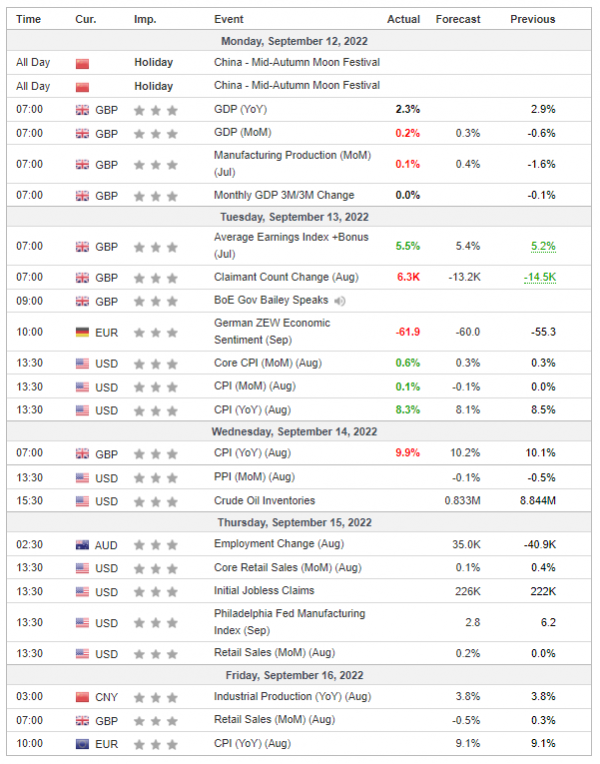 The euro rose against the dollar, coming off its 20 year lows, as the ECB raised its interest rates 75 basis points. Following the interest rate decision on Thursday, markets are now forecasting a more aggressive interest rate policy stance after Lagarde re-affirmed the ECB will continue to raise interest rates.
The British pound finished the week stronger against the US dollar, as the US dollar continued its retreat last week amid falling US treasury yields and an improved risk sentiment towards the pound.
The USD/Yen traded lower over the week, as the yen also received some safe haven support amid investor worries. The pair pulled back after closing 20 year highs the prior week.
Gold prices slightly increased last week as the US treasury yields fell, easing negative pressure from the prior week. Investors moved back into gold, pushing the price higher ahead of the US CPI print scheduled for the 13th of September.
US stocks continued their rally throughout much of the week, closing higher on Friday despite Chair Powell's hawkish speech on Thursday. Risk sentiment improved, as some analysts suggested that the coming inflation report might indicate a peak, which could push the Federal Reserve to end their interest rate cycle sooner.
Oil prices continued to rally despite the EIA report printing an oil buildup of 8.44m barrels. JP Morgan suggested that OPEC may need to cut production by 1 million barrels a day to stabilize the market following prior declines. Oil rallied on this statement, closing the week higher.