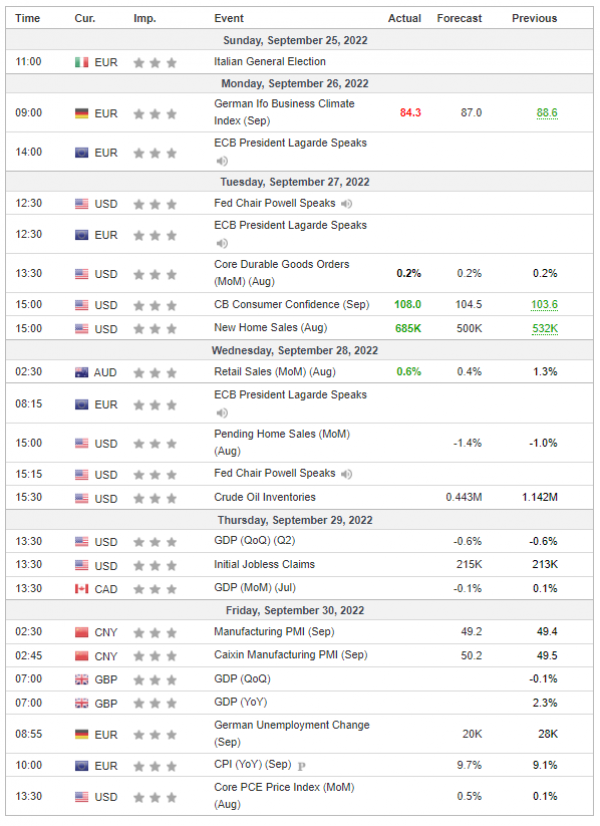 The euro fell to twenty year lows against the dollar, after the Fed decided upon a rate hike of 75 basis points. The Fed also revised down its economic growth forecasts this year and stated that interest rates would continue to rise both this and next year.
The British pound crashed to an all time low on Friday after the British government announced tax cuts for high earners, even as the country struggles to fight high inflation. Traders are watching carefully this week as the Bank of England may call an emergency meeting either to announce another rate hike, or to intervene in the foreign currency markets to support the pound.
The USD/Yen climbed over the week, but the pair saw extraordinary volatility on Thursday when the Japanese Central Bank decided to leave rates unchanged. The pair hit a twenty four year high, but the bank later announced it was buying the yen and selling dollars to support its currency, causing the pair to fall.
Gold prices fell again last week hitting their lowest level since March 2020 on the disappointing news that rates are projected to come down in 2024 at the earliest.
US stocks traded lower as traders faced up to the increasing likelihood of a recession in the United States. On Thursday Goldman Sachs cuts its S&P 500 target, forecasting that US equities could go below current levels by the end of the year.
Oil prices declined last week as market sentiment worsened. A higher dollar and fears that oil demand could fall due to the worsening economic situation put pressure on oil. However, OPEC meets next week and it might cut its output. A hurricane off the coast of the United States has provided some support in recent days.