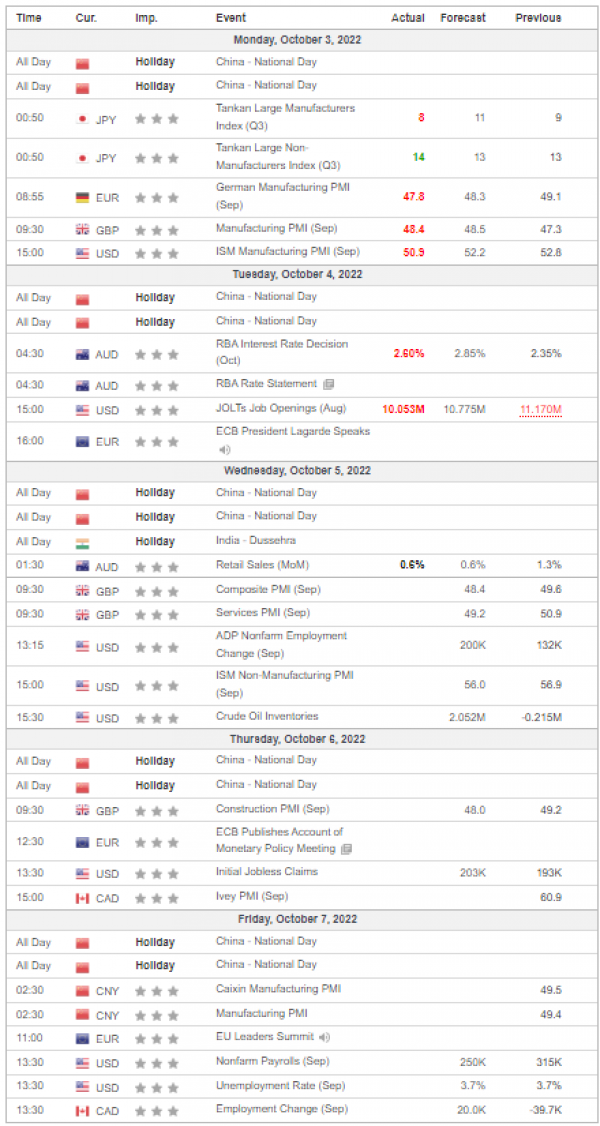 The euro fell to fresh twenty year lows against the dollar after Fed officials gave speeches suggesting that the Fed would not slow down rate hikes until inflation is curbed. However, the Eurodollar pair finished the week higher after Eurozone inflation came in higher than expected, increasing expectations of sharper rate increases in Europe.
The British pound crashed to another record low early in the week after investors passed judgement on the government's decision to cut taxes for high earners. But Sterling ended the week higher after the Bank of England announced it would buy 65 billion pounds worth of bonds since pension funds were threatened with financial collapse. News that the government decided to cancel its tax cut on Monday supported sterling this week.
The USD/Yen moved higher over the week, but the pair was far less volatile than the previous week following the Bank of Japan's recent intervention via buying yen in the foreign currency markets.
Gold prices began rising last week and finished the week higher after the dollar eased lower. The precious metal hit a three week high this week amid rising tensions in Asia after North Korea fired a powerful missile over Japan.
US stocks fell again last week as sentiment continued to be negative due to the prospect of long lasting higher interest rates and a potential longer lasting recession that may follow. This week stocks have been bouncing back after the Australian central bank hiked rates by less than expected awakening hopes that other banks may follow a similar policy to prevent a deeper recession.
Oil prices climbed last week ahead of Wednesday's OPEC + meeting. Russia was reportedly seeking a 1 million barrel per day output cut sent prices higher. News this week that OPEC could be discussing even higher output cuts provided an additional boost to Crude.