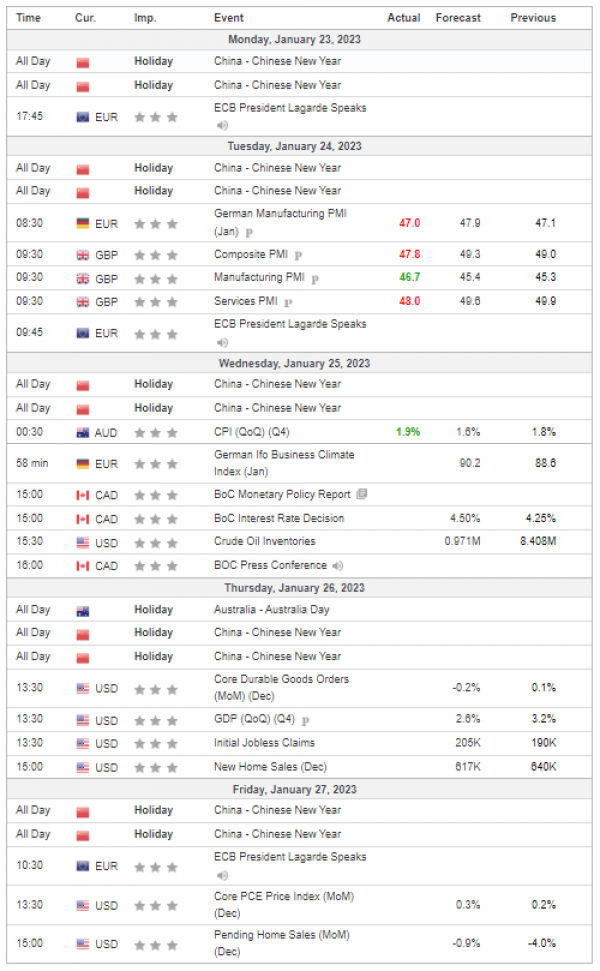 The euro continued to rise against the dollar last week and hit a seven month high. Traders expect the ECB to hike rates by 50 basis points at its meeting in early February.
The British pound pushed higher against the dollar after stronger employment data supported sterling. In the US the dollar declined after US Retail Sales and inflation data came in lower than expected.
The USD/Yen pair climbed after the Bank of Japan kept interest rates at -0.10%.
Gold prices rose to hit a nine month high as the precious metal remained attractive. The Chinese New Year and Indian wedding season have begun and are already recording a large increase in physical demand for gold.
US stocks fell last week after traders began to consider that optimism over the condition of the US economy in 2023 may have been overstated. The earnings season has shown mixed to positive results overall. Last week Netflix beat estimated subscriber numbers, boosting its stock price.
Oil prices continued to move higher amid optimism on an increase in demand from China as travel around the country increased sharply just ahead of Chinese New Year. Colder weather forecasts from the United States also imply that demand for oil will increase in the coming weeks.