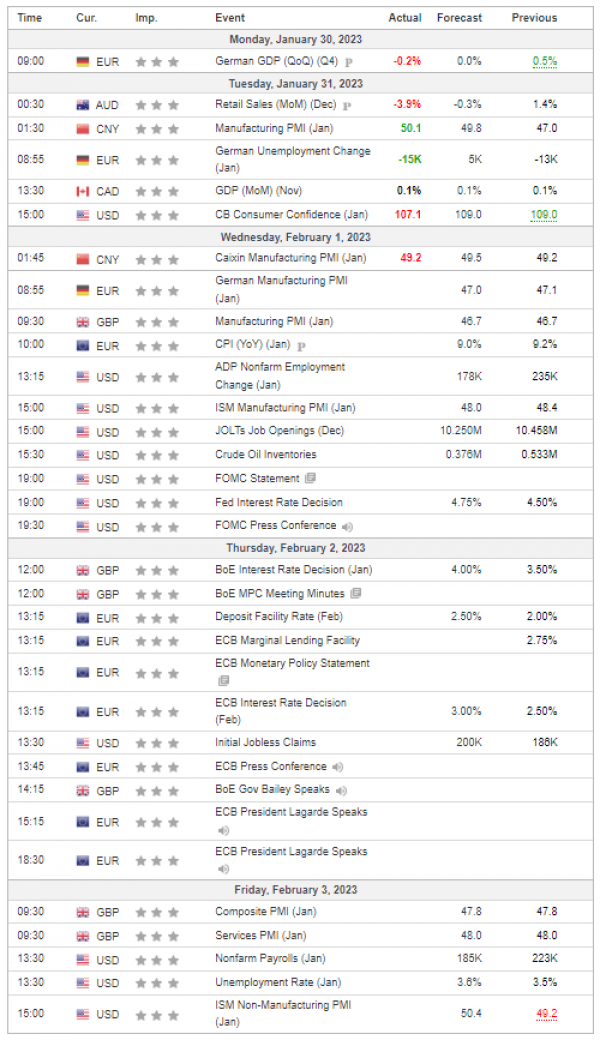 The euro fell against the dollar last week. Traders returned to the safe haven greenback amid concerns over the US economy ahead of this week's Fed meeting.
The British pound fell against the dollar after weaker UK services data amid fresh strike action from health service and rail service workers worried traders. According to the IMF the UK will be the only major economy in recession this year.
The USD/Yen pair moved slightly higher after Japan reported weaker manufacturing data.
Gold prices were broadly steady last week with the precious metal again hitting a fresh nine month high. The Chinese New Year and Indian wedding season continue to stimulate increased physical demand for gold.
US stocks climbed last week with traders snapping up tech stocks ahead of their earnings results. Better than expected earnings posted and reported higher sales in January by Tesla also had a supportive effect on the wider market.
Oil prices spent much of the week moving higher, only to fall to a one week low on Friday. The move came after reports suggested that OPEC would likely stick to its current production levels of cutting 2 million barrels per day at its meeting on February 1st. Traders had previously been expecting an additional production cut of up to 500,000 barrels per day.