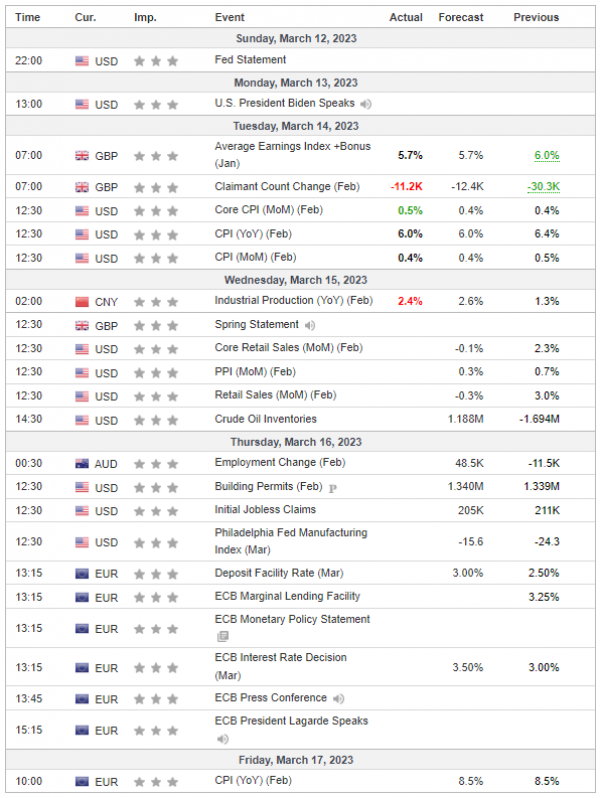 The euro moved higher against the dollar after mixed nonfarm payrolls figures helped calm immediate fears over inflation. On Friday news that Silicone Valley bank was close to collapse caused elevated volatility, amid fears that the wider banking system might be affected.
The British pound traded lower as the greenback retreated as traders weighed up the possibilities that the collapse of SVB might cause a change in Fed interest rate policy. Traders began to rule out a 50 basis point hike at next week's Fed meeting.
The USD/Yen pair retreated after Bank of Japan Kuroda oversaw his final interest rate meeting. The longest ever Japanese bank governor announced that rates would be kept at their current level of -0.10%.
Gold prices jumped to a more than one month high as traders moved towards safe haven assets at the end of the week. The prospect of lower rate hikes, or even rate cuts in the coming months, provided additional support for gold.
US stocks fell despite mixed NFP figures on Friday which initially supported markets until bank stocks fell sharply, dragging down the wider indexes.
Oil prices fell last week as worries increased over the state of the US economy which could negatively impact future oil demand. News that China had brokered an agreement between Iran and Saudi Arabia, increased the chances of mostly sanctioned Iranian oil being traded on the open markets.