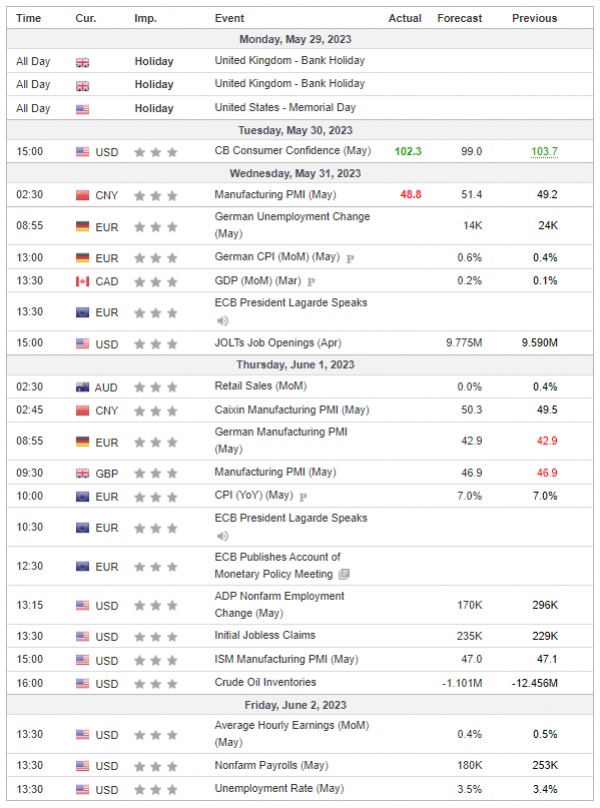 The Eurodollar fell to multi month lows. This followed a series of poor economic data from Germany including negative GDP which suggested that the country was in a recession.
The British pound fell against the dollar after poor manufacturing and services data suggested that the UK economy is still performing badly. The safe haven dollar meanwhile climbed against a basket of other currencies as worries over the debt ceiling continued.
The USD/Yen pair jumped to a six month high as new Japanese bank governor Kazuo Ueda signalled there will be no change in the banks ultra easy policy.
Gold prices continued to decline, hitting a two month low as the greenback pushed higher against other currencies. The debt ceiling and the increasing prospect of a rate hike in June have combined to place gold under pressure recently.
US stocks climbed last week, with Nasdaq stocks again storming ahead AI chip producer NVIDIA beat earnings expectations, hit a record high and set off more gains in tech stocks such as Microsoft and AMD.
Oil prices pushed higher after Saudi Energy Minister Bin Salman stated that those traders who sell crude oil will continue "ouching'. According to analysts, this could be a hint that the kingdom might push for an OPEC production cut at this weekend's joint ministers OPEC meeting.