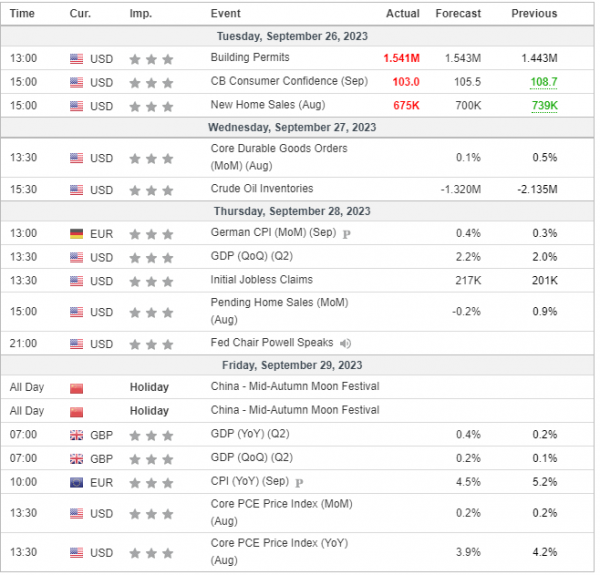 The Eurodollar continued falling to hit a six-month low after Eurozone CPI inflation data came in lower than expected. The Fed kept interest rates at 5.5% and Hawkish comments from Fed Chair Powell pushed the dollar higher against its peers.
The British pound dollar currency pair continued to drop after the bank of England unexpected froze interest rates at 5.25%.
The USD/Yen pair increased again as the Bank of Japan decided to freeze interest rates at -0.10%. The bank spoke of "extremely high uncertainties" and stated it stood by its current patient ultra easy policy.
Gold prices were broadly unchanged as investors were given no help from the Fed. Traders are worried that interest rates will stay higher for longer and a rising dollar is making the precious metal more expensive for foreign currency traders.
US stocks traded lower as negativity dominated stock trading. However, queues formed in multiple cities around the world after the iPhone 15 went on sale. Online orders were reported to be high and Apple's latest phone is estimated to be outselling last year's iPhone 14 by 10%.
Oil prices jumped to record an eleven-month high but traded slightly lower during the week. Fed statements were causing concerns over US oil demand. News late last week that Russia would ban exports of gasoline and diesel supported prices.