Virgin Galactic weekly uptrend opportunity based On 1.00 Lot Calculation:
Virgin Galactic develops space vehicles. The company designs exploration technology such as missiles, rockets, and other related equipment. Virgin Galactic Holdings serves customers in the United States.
EVENT: PRIORITY LIST OPENS UP IN EARLY 2022: The company says those on the "priority list" will receive exclusive access to a limited number of spaceflight reservations. The total cost of the flight is still $450,000. Customers, or "pioneers" as SPCE calls them, will have a 90-minute ride or so to 50 kilometers above sea level in a SpaceShipTwo spaceplane with a few minutes of zero-gravity experience during descent. Virgin Galactic sends an e-mail to prospective customers indicating that they can secure their place in line for a flight with a fully refundable deposit of $10,000. Virgin Galactic has set their ticket prices at $450,000 per flight and expects to start flying paying customers into space in Q4 of 2022. The company said that 100 people purchased more expensive tickets to fly on the company's suborbital spaceplane after it reopened ticket sales this August. That means that the company has roughly 700 ticket holders.
EVENT: VIRGIN GALACTIC TO START COMMERCIAL FLIGHTS IN Q4 OF 2022. The event is expected to be preceded by several test flights, which could be scheduled as early as Q1 of 2022. Virgin Galactic was approved by the FAA (US Federal Aviation Administration) to operate as a commercial space transportation operator.
FINANCIALS: Virgin Galactic ended the year (2021) with about $933 million in cash on the balance sheet. The company burned through about $68 million in the final three months of the year. The free cash flow is a little better than Wall Street was projecting. On January 13, the company was said to raise more debt, this time of up to $500 million to finance working capital including the development of its spacecraft fleet. Wall Street currently projects Virgin Galactic will generate sales of about $8 million in 2022, growing to about $38 million in 2023.
NEW SUPPORT AREA BELOW THE MARK OF $9.00: Virgin Galactic has experienced three major waves to the upside since February 2020. The first time, the stock rose to $42.49 (February, 2020), while the second time the stock rose to an all-time high of $62.80 (February 2021). The third time the stock rose to $57.28 (June 2021).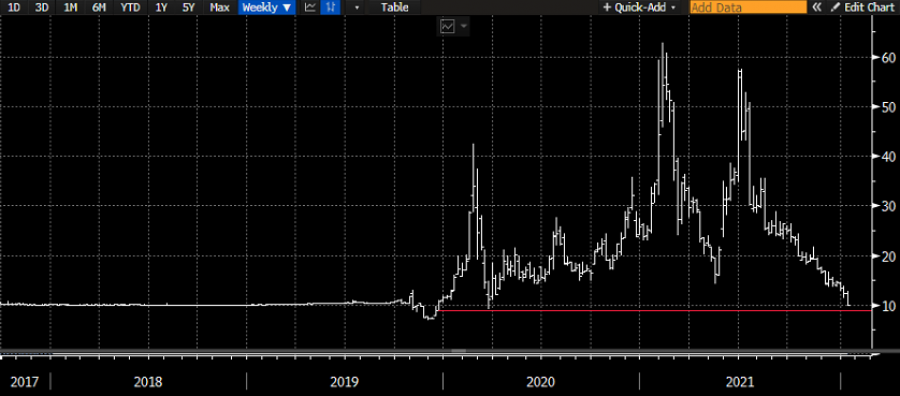 SOURCE: BLOOMBERG
VIRGIN GALACTIC STOCK PRICE ACTION: Virgin Galactic stock made its all-time high of $62.80 as recently as February 4, 2021. The stock currently trades around 85% below that level. If a full recovery follows, the stock could increase around 555%. Virgin Galactic's lowest price ever was $6.90, tested in November 2019 as it started to first publicly trade on October 28, 2019.
ANALYST CONSENSUS (BLOOMBERG): Average prices target by Bloomberg Analysts is set at $22.18 a share.
Virgin Galactic, (#VIRGING), January 14, 2022
Current Price: 9.50
| | |
| --- | --- |
| Virgin Galactic | Weekly |
| Trend direction | |
| | 22.20 |
| | 19.00 |
| | 15.00 |
| | 6.50 |
| | 6.25 |
| | 6.00 |
Example of calculation base on weekly trend direction for 1.00 Lot*
Virgin Galactic

Pivot Points

Profit or loss in $

127,000.00

95,000.00

55,000.00

-30,000.00

-32,500.00

-35,000.00

Profit or loss in €**

110,768.05

82,857.99

47,970.42

-26,165.68

-28,346.15

-30,526.63

Profit or loss in £**

92,460.47

69,163.34

40,041.93

-21,841.06

-23,661.14

-25,481.23

Profit or loss in C$**

158,441.39

118,519.15

68,616.35

-37,427.10

-40,546.03

-43,664.95
* 1.00 lot is equivalent of 10000 units
** Calculations for exchange rate used as of 10:20 (GMT) 14/01/2022
Fortrade recommends the use of Stop-Loss and Take-Profit, please speak to your Client Manager regarding their use.
*** You may wish to consider closing your position in profit, even if it is lower than suggested one
**** Trailing stop technique can protect the profit – Ask your Client Manager for more details