TRADING RANGE: $60 - $65
Crude oil has traded above the mark of $60 supported by several positive developments, but its short term upside seemed still under pressure due to rising Covid- 19 cases across the world. The points below explain why short term Crude oil could continue to trade in the range between $60 and $65 a barrel.
POSITIVE ARGUMENTS TO SUPPORT THE OIL PRICES:
NEWS (China trade data (including oil imports) in March strong). GDP rose by 18.3% in Q1: Crude oil imports into China also jumped 21% in March from a low base of comparison a year earlier as refiners ramped up operation amid robust fuel demand as the COVID-19 pandemic eased.
RISING MIDDLE EAST TENSIONS: Houthis have attacked Saudi Aramco oil sites multiple times over the past few weeks. The rising tension makes investors anxious, which has supported the oil prices recently.
OPEC+ TO CONTINUE TO SUPPORT THE MARKETS DESPITE RECENT DECISION TO INCREASE OIL SUPPLY IN MAY- JULY PERIOD: Saudis Say OPEC+ could quickly act and nimble change course if necessary (on supply). The group will continue to meet monthly and it can adjust plans. OPEC+ will next meet on April 28. OPEC (Oil Monthly Report) said in their monthly report that demand will continue to recover and will absorb the extra oil supply in May- July period. They raised their global demand forecast by 190,000 barrels a day to 96.46 million barrels per day.
NEGATIVE ARGUMENTS TO PRESSURE THE OIL PRICES:
LOCKDOWNS AND COVID RESTRICTIONS: GERMANY: Merkel and the regional leaders agreed to extend Germany's current lockdown measures. FRANCE has started a four- week national lockdown on April 3. BRAZIL hits fresh daily highs (Brazilian variant is now entering Europe, the one which is considered more deadly).
INDIA (the third largest oil consumer in the world) experiences a new Covid- 19 pandemic wave (imposing lockdown measures and curfews). The so-called double mutation (Indian variant which is a combination of the UK and South African strains) appears to be very dangerous. New Delhi (India's Capital) entered a week-long lockdown.
Vaccination Process in some Part of the World is Struggling: AstraZeneca and Johnson and Johnson vaccine issues that could slow down the global vaccination process have also put negative pressure on the oil markets.
IRANIAN NUCLEAR DEAL TALKS SEEN "CONSTRUCTIVE" BETWEEN THE U.S AND IRAN (PROGRESS REPORTED): Iran's President Hassan Rouhani said negotiations on how to the revive the 2015 nuclear deal were 60% to 70% complete and could be resolved quickly if the U.S. acts with "honesty." World powers including China, Russia and the European Union on Tuesday concluded their latest round of talks in Vienna aimed at returning the U.S. to the accord. Delegates will next week focus on sequencing, or how the U.S. and Iran will choreograph the steps they need to take to fully restore the deal.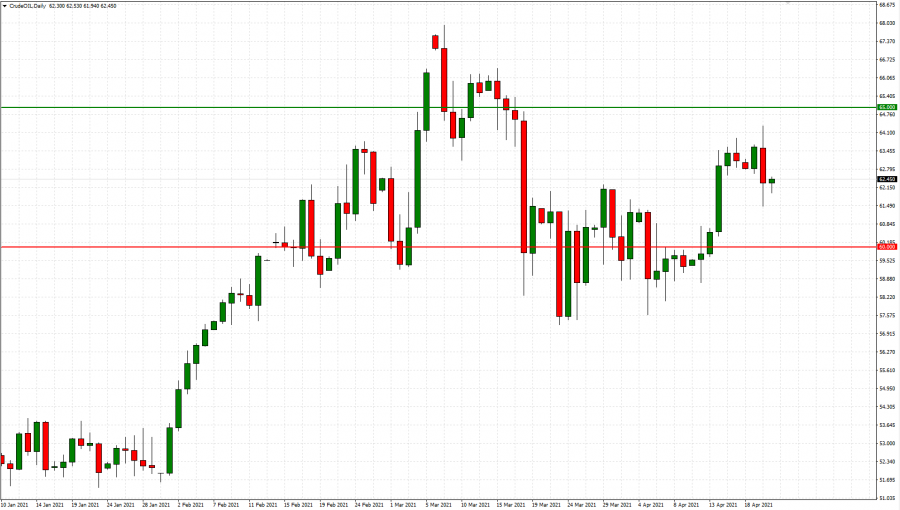 Graph: Crude Oil, Daily
Current Price: 62.44
| | |
| --- | --- |
| Crude Oil | Weekly |
| Resistance | 65.00 |
| Support | 60.00 |
Example of calculation based on UPTREND ($65) direction for 1.00 Lot*
| | | |
| --- | --- | --- |
| | Resistance | Support |
| Profit or loss in $ | 2,560.00 | -2,440.00 |
| Profit or loss in €** | 2,131.50 | -2,031.59 |
| Profit or loss in £** | 1,837.31 | -1,751.19 |
| Profit or loss in C$** | 3,221.94 | -3,070.91 |
Example of calculation based on DOWNTREND ($60) direction for 1.00 Lot*
| | | |
| --- | --- | --- |
| | Resistance | Support |
| Profit or loss in $ | -2,560.00 | 2,440.00 |
| Profit or loss in €** | -2,131.50 | 2,031.59 |
| Profit or loss in £** | -1,837.31 | 1,751.19 |
| Profit or loss in C$** | -3,221.94 | 3,070.91 |
* 1.00 lot is equivalent of 1000 units
** Calculations for exchange rate used as of 9:00 a.m. (GMT+1) 21/04/2021
Fortrade recommends the use of Stop-Loss and Take-Profit, please speak to your Client Manager regarding their use.
*** You may wish to consider closing your position in profit, even if it is lower than suggested one
**** Trailing stop technique can protect the profit – Ask your Client Manager for more details