WEEKLY TREND: UP
Fundamental Overview:
President Elect Joseph Biden asked the US Congress for additional $1.9 trillion (The legislation is expected to become final around early to mid-March). The U.S. Congress has already approved a $900 billion coronavirus aid package in late 2020.
The US Congress approved on December 21, 2020 a $900 billion coronavirus aid package. In January US President Joseph Biden laid out a proposal worth 1.9 trillion dollars to boost the US economy. President Elect Joseph Biden wants to increase the recently enacted $600 rebate checks to $2,000 per person. The markets believe that this is possible as the Democrats will run the White House and the US Congress (House and Senate) next two years. Last time this happened was back in the 2008- 2010 period when gold rose more than 500 dollars. The new money coming in could devalue the US currency due to inflationary pressure and high money supply, which in turn could have a positive impact on dollar- denominated Gold and Silver.
US Federal Reserve Monetary Policy Meeting (January 27)
In addition, the US Federal Reserve (January 27 meeting) said it will maintain its "POWERFUL" massive asset purchasing programme (monthly 120 billion dollars) (equivalent to 1.44 trillion dollars per annum) until it sees substantial further progress in employment and inflation. The Fed did not announce policy changes, which was a bit of disappointment to some investors. The dot plot projections on interest rates said that 0.00%- 0.25% rate should stay in place until the end of 2023.
MORE THAN 3 TRILLION DOLLARS TO BE INJECTED INTO THE U.S. ECONOMY IN 2021: Increased money supply in the U.S. is expected to increase upward pressure on inflation, which could grow hot later this year. Therefore, the US Dollar's purchasing power could fall, while investors could be expected to seek protection with the safe- haven Gold. To this end, the markets could still expect the Gold prices to recover.
ANALYSTS OPINION (GOLDMAN SACHS/BANK OF AMERICA/CITIGROUP): GOLDMAN SACHS has kept their target price at $2300. BANK OF AMERICA 2021 Estimate is average of $2063. CITIGROUP maintains a price target of $2300.
Statistical and Technical Overview
Since it first broke above 1800 in July 2020 Gold has continued to find strong support with the area below 1800 (strong support).
It has broken only twice below the mark of 1800, but it has always come back above 1800.
Gold's Daily Relative Strength Index has fallen recently to its oversold threshold of 30 to suggest a possible upward recovery.
Please note that past performance does not guarantee future performance.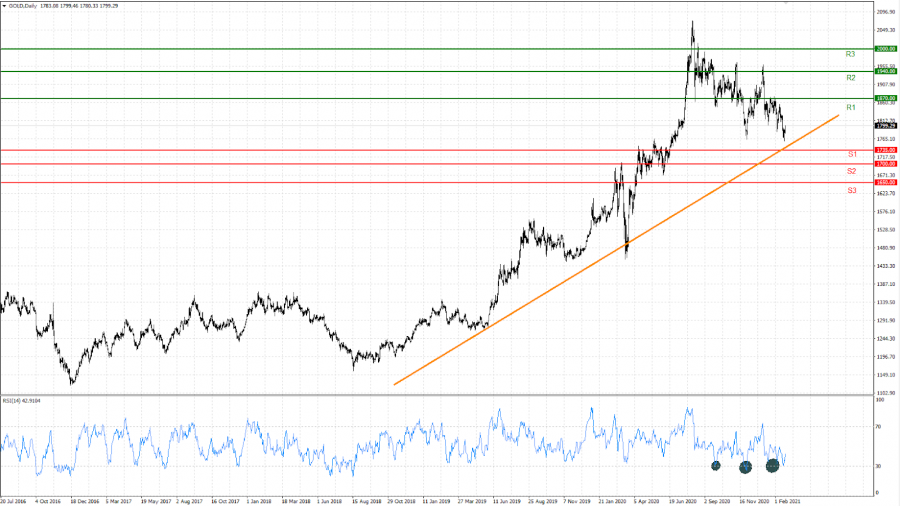 Graph: (Gold, Daily)
Current Price: 1799
| | |
| --- | --- |
| GOLD | Weekly |
| Trend direction | |
| | 2000 |
| | 1940 |
| | 1870 |
| | 1735 |
| | 1700 |
| | 1650 |
Example of calculation based on trend direction for 1.00 Lot*
GOLD

Pivot Points

Profit or loss in $

20,100.00

14,100.00

7,100.00

-6,400.00

-9,900.00

-14,900.00

Profit or loss in €**

16,559.02

11,616.03

5,849.21

-5,272.52

-8,155.93

-12,275.09

Profit or loss in £**

14,323.69

10,047.96

5,059.61

-4,560.78

-7,054.95

-10,618.06

Profit or loss in C$**

25,371.83

17,798.15

8,950.41

-8,078.59

-12,496.57

-18,807.97
* 1.00 lot is equivalent of 100 units
** Calculations for exchange rate used as of 13:15 (GMT) 22/02/2021
Fortrade recommends the use of Stop-Loss and Take-Profit, please speak to your Senior Account Manager regarding their use.
*** You may wish to consider closing your position in profit, even if it is lower than suggested one
**** Trailing stop technique can protect the profit – Ask your Senior Account Manager for more details