Alibaba (#ALIBABA) weekly special report based On 1 Lot Calculation:
ALIBABA: COMPANY
ALIBABA IS ONE OF THE LARGEST E-COMMERCE IN THE WORLD:
E-COMMERCE MARKET SHARE (COUNTRY) China is estimated to claim 52.1% of the global market, USA with 19%, UK with 4.8% and Japan with 3.0%. Rest of the world covers 21.1%.
E-COMMERCE MARKET SHARE (COMPANY) Alibaba (Taobao and Tmall) claimed 24.00%, while Amazon took up 13% of the global e- commerce market. JD.com claimed 9.20% of the market.
ALIBABA IN THE ARTIFICIAL INTELLIGENCE (AI) WORLD: Alibaba has showed off its generative Artificial Intelligence (AI) model (Tongyi Qianwen) (its version of the tech that powers chatbot sensation ChatGPT), and said it would be integrated into all of the company's apps in the near future.
ALIBABA: ANALYSIS AND EVENTS
ALIBABA REVERSES SPINOFF PLANS KEEPS CLOUD BRANCH, STATES ARTIFICIAL INTELLIGENCE WILL BE A KEY GROWTH DRIVER: In its most recent earnings report, Alibaba stated that it will continue to focus on building its AI infrastructure and cloud. Alibaba grew its market share 7% Year-on-Year in 2022 to 36%, making it the largest cloud provider in China.

ALIBABA MAINTAINS ITS AI ADVANTAGE HAVING PURCHASED NVIDIA CHIPS PRIOR TO U.S. SANCTIONS, ENABLING IT TO RAISE PRICES 30%-50% FOR USERS: Alibaba will now remain ahead of the competition in terms of artificial intelligence development, having received Nvidia chips for development well ahead of its peers. This gives Alibaba an edge in the sector, and enables the company to raise its pricing, which could ultimately improve net income.

ALIBABA DECLARES ITS FIRST EVER DIVIDEND AFTER THE COMPANY REPORTS STRONG EARNINGS: Alibaba surprised the markets by declaring a dividend for the first time in the company's history.
TECHNICAL ANALYSIS
ALIBABA IS TRADING NEAR ITS SUPPORT ZONE OF $75: Alibaba has rarely traded below $75 a share before rebounding in the following weeks. As per the chart below, both dips occurred in 2022. These are the only two occasions since 2016.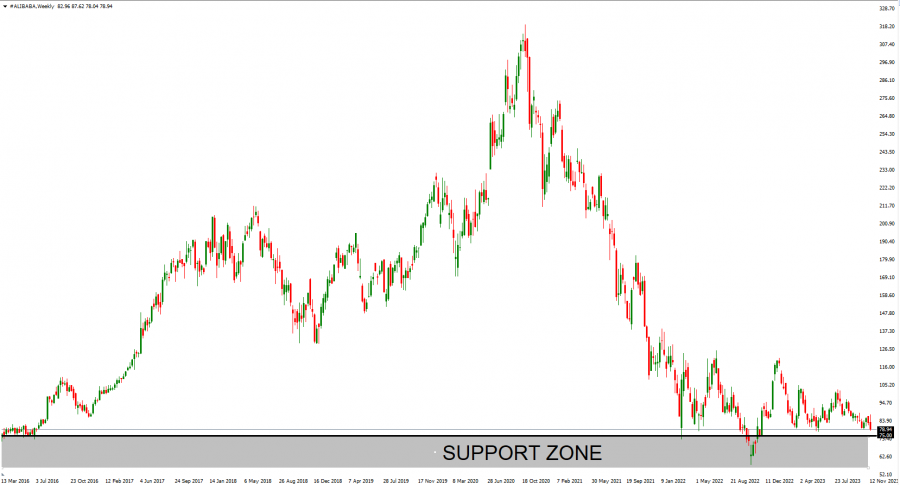 SOURCE: MT4
Please note that past performance does not guarantee future results.
ALIBABA: PRICE ACTION
THE STOCK FELL TO ITS LOWEST LEVEL SINCE 2015 OF $57.82 (OCTOBER 24, 2022), REPRESENTING A DECLINE OF 82% FROM ITS ALL- TIME HIGH OF $319.32 (OCTOBER 2020). Alibaba was last trading around $76, and if a full recovery follows to recent all- time highs, the stock could see an upside of around 320%. However, the price could also decline further.

ALIBABA STOCK TRADES CLOSE TO ITS 2014 IPO PRICE OF $68: Alibaba currently trades around $76, which is only around $8 above its IPO (Initial Public Offering) price of $68. In other words, when Alibaba first became public company in 2014, it started trading at $68. Almost 10 years later, Alibaba's stock trades close to that rate again.

ANALYSTS OPINIONS: Citi Group forecasts $142. JPMorgan forecasts $125. Jefferies forecasts $145. The Bloomberg consensus price target is $127.59.
#ALIBABA, November 17, 2023
Current Price: 76
| | |
| --- | --- |
| Alibaba | Weekly |
| Trend direction | |
| | 120 |
| | 95 |
| | 85 |
| | 67 |
| | 60 |
| | 58 |
Example of calculation based on weekly trend direction for 1 Lot1
Alibaba

Pivot Points

Profit or loss in $

44,000.00

19,000.00

9,000.00

-9,000.00

-16,000.00

-18,000.00

Profit or loss in €2

40,472.98

17,476.97

8,278.56

-8,278.56

-14,717.45

-16,557.13

Profit or loss in £2

35,413.19

15,292.06

7,243.61

-7,243.61

-12,877.52

-14,487.21

Profit or loss in C$2

60,358.32

26,063.82

12,346.02

-12,346.02

-21,948.48

-24,692.04
1.00 lot is equivalent of 1000 units
Calculations for exchange rate used as of 11:45 (GMT) 17/11/2023
Fortrade recommends the use of Stop-Loss and Take-Profit, please speak to your Senior Account ManagerClient Manager regarding their use.
You may wish to consider closing your position in profit, even if it is lower than suggested one

Trailing stop technique can protect the profit – Ask your Senior Account ManagerClient Manager for more detail