Crude Oil weekly special report based On 1.00 Lot Calculation:
EVENTS:
NOVEMBER 26: OPEC+ MEETING. In 2024, OPEC sees demand rising by 2.25 million barrels a day. The group has been cutting production since late 2022 to support the market and its latest agreement calls for output curbs throughout 2024. EXPECTATIONS: As previously mentioned, the OPEC+ group led by Saudi Arabia is expected to extend their production cuts into 2024, with Saudi Arabia and Russia watched closely if they extend their voluntary cuts of around 1.3 million barrels a day in 2024. This is possible as oil prices failed to stay sustainably above $80 in the second half of the year.

OPEC+ PRODUCTION CUTS TO PRODUCE AN OIL MARKET DEFICIT OF 2 MILLION BARRELS A DAY IN Q4 OF 2023. According to some banks, including ING, ANZ and Goldman Sachs, the oil markets are still expected to be in deficit in Q4 2023, and with extended OPEC+ cuts into 2024, these deficits may be prolonged into the period ahead.
CURRENT SITUATION AND OIL MARKET DEFICIT DEVELOPMENT:
OPEC+ IS CUTTING OIL PRODUCTION BY 4.9 MILLION BARRELS A DAY IN 2023. OPEC+ had in place cuts of 3.66 million bpd, amounting to 3.6% of global demand, including 2 million bpd agreed last year and voluntary cuts of 1.66 million bpd agreed in April this year. Those cuts were joined by Saudi and Russia voluntary cuts of around 1.3 million barrels a day to make in total 4.9 million barrels a day of oil production cuts.

RUSSIA EXTENDED CUTS OF 300,000 until the end of 2023.

SAUDI ARABIA EXTENDED ITS CRUDE OIL OUTPUT CUT OF 1 MILLION BARRELS A DAY UNTIL THE END OF 2023. Saudi Arabia, the world's biggest crude exporter, extended earlier its voluntary output cut of 1 million barrels per day, which cuts originally started in July this year.

CHINA'S ECONOMY TO RECOVER BETTER IN Q3 AND Q4 WITH SURGING OIL DEMAND. Due to additional stimulus packages in China, economists expect the Chinese economy to recover at quicker pace in the second half of the year that started in July.
MIDDLE EAST TENSIONS TO KEEP MARKETS NERVOUS
ISRAELI GROUND OFFENSIVE INTO GAZA REMAINS IN PLACE AFTER ISRAEL DECLARED WAR ON HAMAS: The Middle East region, rich of oil, and responsible for something between 20% and 30% of global oil supply, has been recently shaken up by the October's Iran- backed Hamas attack on Israel, and Israel declaring officially war on Hamas in the Gaza Strip. Although expectations for broader escalation has gone down in recent days, still historically seen, given the fragility of the region, potential escalation cannot be completely ruled out. Oil investors will keep their eyes on that part of the world, keeping oil prices volatile in the period to come.
TECHNICAL REVIEW:
STATISTICS: CRUDE OIL HAS TESTED THE RANGE OF $62- $70 EIGHT TIMES SINCE FEBRUARY 2021. After testing the region, Crude oil would come back up above the mark of $70, to target the $80- $90 range.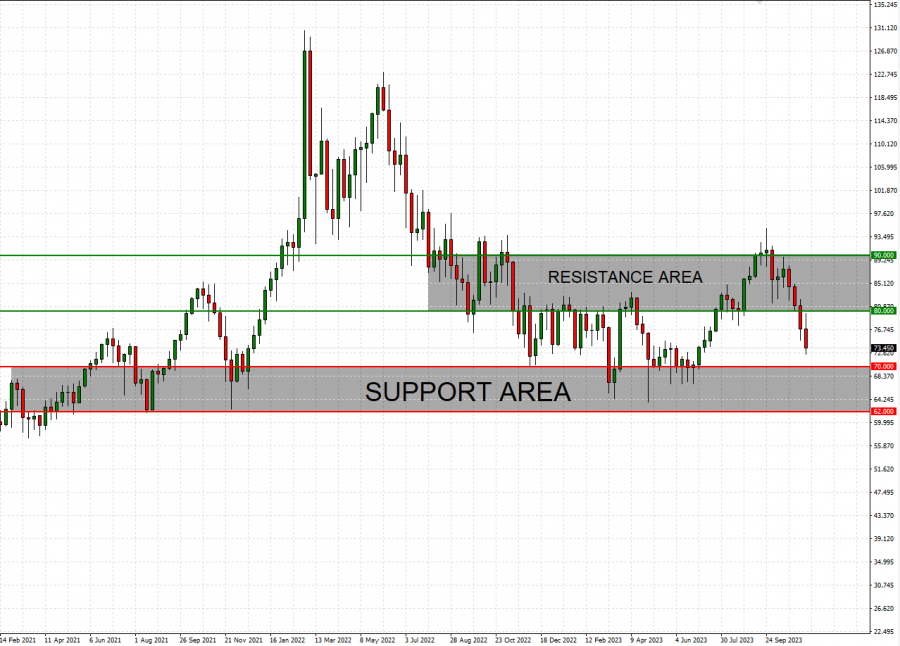 Graph (Weekly): Crude Oil (February 2021- November 2023)
Please note that past performance does not guarantee future results.
Crude Oil, November 17, 2023
Current Price: 73
| | |
| --- | --- |
| Crude Oil | Weekly |
| Trend direction | |
| | 90 |
| | 85 |
| | 80 |
| | 67 |
| | 66 |
| | 65 |
Example of calculation base on weekly trend direction for 1.00 Lot1
Crude Oil

Pivot Points

Profit or loss in $

17,000.00

12,000.00

7,000.00

-6,000.00

-7,000.00

-8,000.00

Profit or loss in €2

15,657.24

11,052.17

6,447.10

-5,526.08

-6,447.10

-7,368.11

Profit or loss in £2

13,645.85

9,632.36

5,618.88

-4,816.18

-5,618.88

-6,421.58

Profit or loss in C$2

23,276.40

16,430.40

9,584.40

-8,215.20

-9,584.40

-10,953.60
1.00 lot is equivalent of 1000 units
Calculations for exchange rate used as of 09:30 (GMT) 17/11/2023
Fortrade recommends the use of Stop-Loss and Take-Profit, please speak to your Senior Account ManagerClient Manager regarding their use.
You may wish to consider closing your position in profit, even if it is lower than suggested one

Trailing stop technique can protect the profit – Ask your Senior Account ManagerClient Manager for more detail