The Reserve Bank Of Australia and its possibility to cut its benchmark interest rate in 2019: Domestic activity slowed sharply in the second half of last year, figures released in early March showed, with Gross Domestic Product (GDP Q4) rising 0.2% in the December quarter following a sub-par 0.3% in the previous three-month period. Annual GDP rose a below-trend 2.3%, the slowest pace since mid-2017 and confounding expectations for a 2.5% increase. The dismal figures put the Australian dollar under negative pressure as investors wagered the Reserve Bank of Australia (RBA) would ease policy to stimulate the economy. According to Bloomberg, the market has given a probability rate of 73.7% that the Reserve Bank of Australia will cut its benchmark interest rate to levels below current 1.50% by the end of 2019. The pressure increased further as home prices continued to decline and household debt continued to rise. According to Reuters, an accelerating decline in Sydney and Melbourne home prices has eaten into consumer wealth at a time when they hold record levels of mortgage debt. The fall in home prices has hit dwelling construction, another reason for the soft fourth-quarter outcome.
Moreover, Australia's Westpac has announced it will reduce interest rates by up to 0.20 percentage points for new customers, and for existing customers who switch to a fixed rate packaged mortgage, effective from Friday, 12 April. The changes follows Commonwealth Bank's cuts to some of its fixed-rate packaged home loans by as much as 0.30 percentage points. National Australia Bank cut rates across some of its residential and investment fixed home loans in March after having hiked variable rate loans in January. ANZ is the only one out of the big four that is yet to make a move this year, having kept its rates steady since hiking variable rate loans in September 2018.


SOURCE: BLOOMBERG
Australia's Employment Market Data (April 18 at 2:30 GMT+1)
The Reserve Bank of Australia, however, continued to avoid signals for possible interest rate cuts in 2019 citing a strong employment market. The Reserve Bank of Australia believes that Australia's strong employment market could keep mortgage payers able to service their debt, and therefore they hope that bigger crises can be avoided. Some economists, however, believe that the employment market data is still lagging indicator and its trend can be negatively impacted by the slowing economic activity in the country, which is explained in the previous paragraph. The Australian Bureau of Statistics is expected to report fresh Employment Change data for March on April 18 at 2:30 GMT+1. Analysts forecast a net positive change of 12,000, which should be accompanied by an increase in total unemployment rate to 5.0% from February's 4.9%.
Technical Outlook
From a technical perspective, the AUD/USD seems to have lost steam to upside, failing to break above the 200 Day Exponential Moving Average, which stood slightly below 0.72. A lack of strength to break above 0.72 could push the AUD/USD again down below 0.71 and therefore target 0.7050 (Support 1). Moreover, the Daily Chart below, shows that the AUD/USD has returned in the longer- term downtrend channel, trading (at time of writing) close to the upper downtrend channel boundary. Persistent channel trading could be expected put negative pressure on the AUD/USD.
If, however, the AUD/USD finds strong support at the near- term psychological level of 0.7150, a bounce-off could be then expected, which could send the AUD/USD up above the rate of 0.72. The Daily Relative Strength Index has been also sending a bullish signal, staying the rate of 50.0 and still upward sloping.
| | |
| --- | --- |
| Pivot Point: | 0.71500 |
| Resistance 3: | 0.74500 |
| Resistance 2: | 0.73500 |
| Resistance 1: | 0.72500 |
| Support 1: | 0.70500 |
| Support 2: | 0.69500 |
| Support 3: | 0.68500 |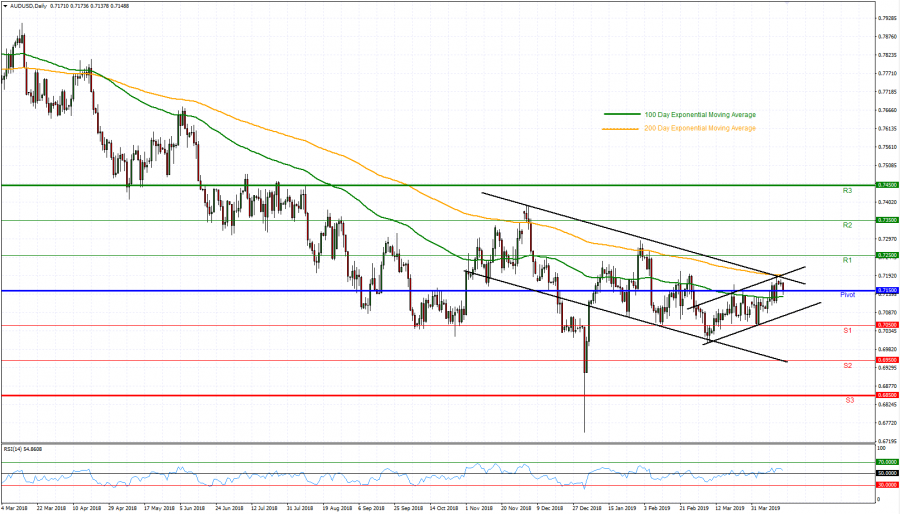 Graph: (AUD/USD, Daily)