Fundamental Overview: On Monday, November 5, US reimposed oil and financial sanctions against the Islamic Republic of Iran. Sanctions that Barack Obama's administration lifted in 2015, were restored with additional sanctions targeting Iranian oil, insurance and banking sectors. President Donald Trump announced in May that his administration was withdrawing from what he called the "worst ever" agreement negotiated by the United States. Given the fact that Iran is in the top five crude oil producing countries and is also member of OPEC cartel, it was expected that sanctions would put upward pressure on crude oil prices. However, since the US imposed sanctions crude prices have gone down although Iranian exports decreased.
So what happened?
Despite the fact that US imposed sanctions upon Iran, US administration issued an exemption to eight largest buyers of Iranian crude oil. Waivers were issued to China, India, South Korea, Japan, Italy, Greece, Taiwan and Turkey, hence, these countries can continue to buy Iranian crude oil without penalties. The exemptions will be on a temporary basis, and will last for 180 days (six months). Exceptions were created so that the largest buyers could have time to replace crude oil from Iran with crude oil from other producers. Moreover, Saudi Arabia along with Iraq increased crude oil production, so that Iranian shortages would not influence the commodity market. Also, increasing crude oil inventories in US puts additional downward pressure on crude oil prices.
What can possibly occur in next 180 days?
For market participants the important factor will be production level of OPEC. If the OPEC crude oil production continues to rise that could be negative for crude oil prices and vice versa. If Iranian production of crude oil continues to drop more than the market expects that could create upward pressure on crude oil prices.
Another important fact that needs to be in focus is that among the largest eight buyers of Iranian crude oil is China. US and China are currently in a trade war with the intention to start negotiations, hence, purchasing crude oil from Iran, could be a bargaining chip in US – China negotiations.
Also, slowing economy growth creates concerns that global demand will decrease and therefore create a surplus in supply in crude oil. In that case, OPEC and Russia might agree to cut production in order to keep the crude oil market in balance.
On November 11, 2018, ministerial committee of some Organization of the Petroleum Exporting Country members and allies, including Russia and Saudi Arabia, is due to meet in Abu Dhabi to discuss the market and outlook for 2019. If the outlook for 2019 suggests that there will be an excess supply in crude oil, then on 6, December 2018, OPEC and Russia might agree to reduce crude oil production. That could provide support to crude oil prices.
Technical Overview:
On weekly graph it is noticeable that since September 30, when crude oil price touched the level of 76.88$ per barrel, crude oil price is on downtrend. The downtrend is supported by the fact that currently crude oil prices trade below 20 and 60-day simple moving average. If the price continues to drop, support level of 57.94$ could be tested. MACD oscillator also indicates a downtrend.
However, stochastic and RSI oscillators are in a deep oversold territory which from perspective of technical analysis is a sign of a possible uptrend. If that prevails, resistance 1 of 67.68 could be reached.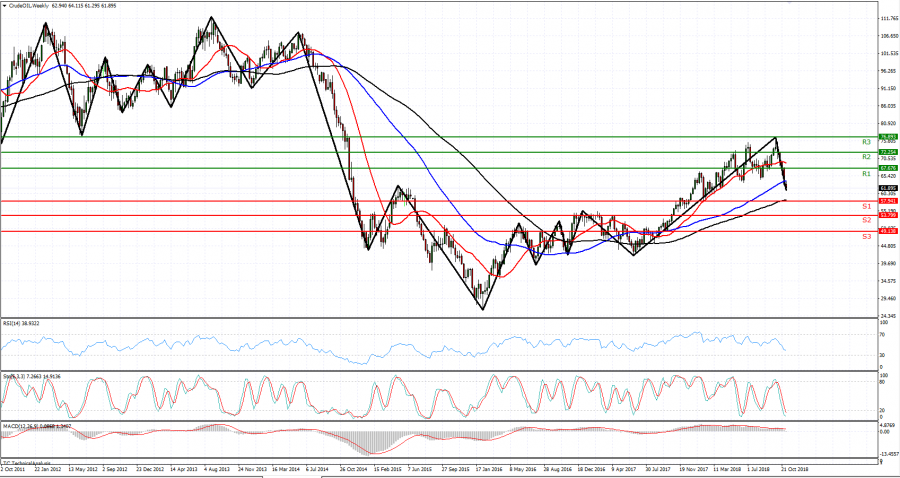 Graph: Crude Oil, Weekly
| | |
| --- | --- |
| Current Price: | 61.90 |
| Resistance 3: | 76.89 |
| Resistance 2: | 72.25 |
| Resistance 1: | 67.67 |
| Support 1: | 57.94 |
| Support 2: | 53.80 |
| Support 3: | 49.14 |