COVID-19: The Second Wave: After declaring, the worst was behind them, governments around the world are now facing a second wave of the Coronavirus. There is a sustained rise in infections. On a global level, current cases reached around 38 million with around 1 million deaths, while in the US there are more than 8 million cases. In Europe, the number of cases has passed 4 million.
Fears are also growing over possible coincidence between the ordinary flu season and the second wave of COVID-19, which could certainly destroy health systems across the world. In some European countries, the ordinary flu season has already started and with the COVID-19 still present, the financial markets may start getting seriously concerned about this.
Many countries and U.S. states are already rolling back or postponing their reopening plans because of this. Some of them are reinstating measures common for the first wave. As numbers continue to rise, the return of Lockdowns and Stay-at-Home orders could be seen again around the globe.
US Presidential Election (November 3): In the middle of the Covid-19 Crisis, the US is now bracing for November 3rd Presidential Elections, where current President Donald Trump (Republican) will seek a second term, while former Vice President Joseph Biden (Democrat) will seek his first term as US President. The financial markets pay a lot of attention to current polls, which show that Joseph Biden leads Donald Trump. The markets also try to anticipate how a Biden Administration would affect the US economy if he wins and therefore price accordingly.
According to current sentiment, market participants believe that the US stock markets will be winners no matter who wins, as both candidates offer more stimulus. According to Goldman Sachs, potential Biden administration could bring in total stimulus of 7 trillion dollars over the first two years of his presidency. The stock markets like stimulus, which means that even with Biden winning, they could continue to rise. Gold and Silver also like stimulus and with more stimulus coming ahead Gold and Silver could also be expected to continue to rise. The benefits of more stimulus might be partially offset if a Biden Administration got its tax plan through Congress which would lower corporate earnings.
MARKET EXPECTATIONS: Taking into consideration that economies did not have enough time to recover from the first COVID-19 wave and that the beginning of the second wave started much earlier than forecast, along with risks associated to the upcoming November 3rd Presidential Election in the US, the following possible financial market outcomes may be expected:
1. Possible crude oil price downward correction towards $30-$35 range (↓);
Surging new coronavirus infections kept concerns high about weakening demand. Even without mandatory quarantines, more people will be working from home and commuting less. Less business and recreational travel will also suppress demand for oil, gasoline, and jet fuel. To this, Crude oil may stay under negative pressure and target first the upper end of the range.
Technical outlook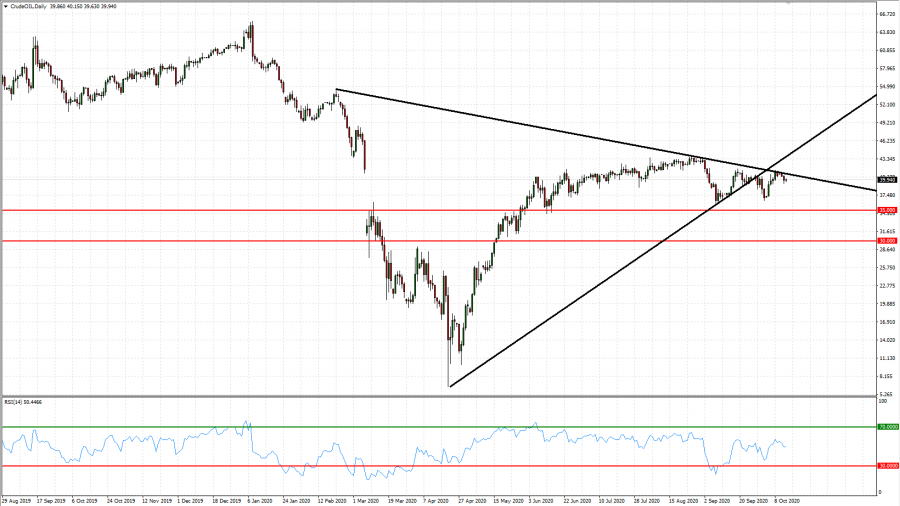 Graph: Crude Oil, Daily
Technical Outlook: Crude has failed to break above its mid-term downtrend line, signaling no strength to extend uptrend recovery. Meanwhile, Crude oil has continued to trade below its mid-term uptrend line, which has been broken recently, also signaling lack of strength for upward recovery.
2. Increase in demand for safe haven instruments can push gold to new historical highs to eventually target the range of $2000-$2300 in the mid to longer run (↑);
In a time of global uncertainty, Central banks around the world have flooded their economies with unprecedented amounts of fiat currencies. This inflationary pressure increased demand for gold as the most popular hedge instrument for currency depreciation. The market could also expect displeasure by people across the world about how governments are mishandling the pandemic, which could lead to big riots, political turmoil and increased financial market uncertainties. The markets are also facing the risk of upcoming US Presidential Election (November 3rd), which all in all, could continue to support safe-haven assets like Gold and Silver.
Technical outlook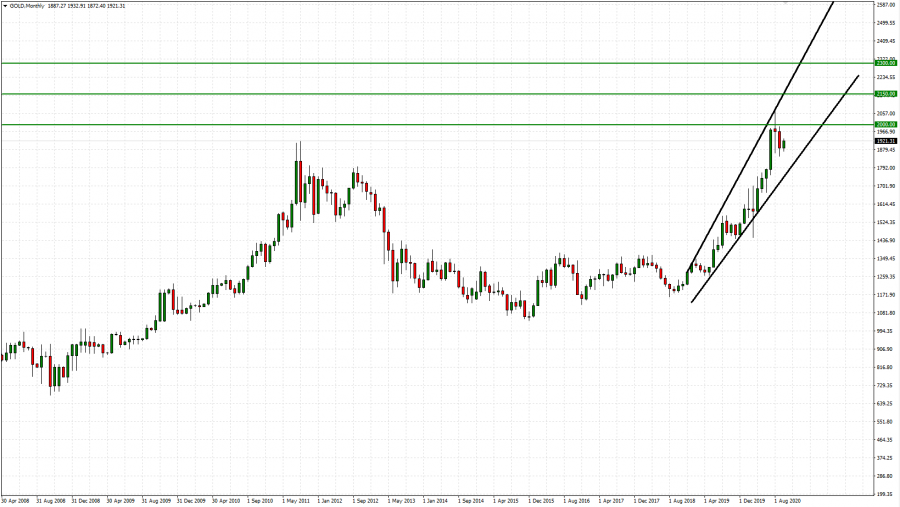 Graph: Gold, Monthly
Strong uptrend channel (black lines on the chart) indicates an extended price rally and all that after it has already once managed to break above the psychological level of 2000 (August 2020).
3. Expectations for more stimulus to keep the global stocks on the upside. Increase in tech, entertaining, social network and e-commerce stock prices which mainly comprise the USA100 index (↑);
As previously mentioned, the stock markets are expected to continue to rise as more stimulus is about to come no matter who wins the U.S. Presidential election. Donald Trump has been known as a good friend to the stock markets, always willing to support rising stock price, while Joseph Biden's administration could bring in even more stimulus than what Donald Trump is prepared to approve.
In addition, people locked in at home due to Stay-At-Home orders need to be entertained and an increase in demand for various kinds of online platforms during the previous lock down confirms it. Netflix is the perfect solution for the bored. Netflix is up 75% since March 15th and the price may continue to rise. Amazon has more than doubled since March 15th. Alibaba is up 70% in the same period. The lockdowns have led to an explosion of shopping from home while brick and mortar stores have been shuttered due to the pandemic. The USA100 index, which is made up of stocks from the above-mentioned companies, could continue to chase new all time-highs.
4. Speculation in the medical sector on companies which are testing new drugs and vaccine for coronavirus and ordinary flu treatments;
Nobody knows which drug company or combination of them will ultimately come up with a successful therapy or coronavirus vaccine. There are at least 20 major ones researching these treatments and solutions. This will lead to high volatility in multiple companies including Pfizer, Moderna, Johnson and Johnson and AstraZeneca as investors place their bets on who will succeed. In the meantime, demand for flu vaccines is expected to grow due to fears over possible coincidence with the COVID-19, while supply seems to be limited. Speculations say that there is a possibility a Covid-19 vaccine for an emergency use, at least, to be out in late 2020, while mass vaccination is expected to start in the first quarter of 2021.
5. Possible W shape in price movement in travel sectors like airlines and cruise lines after recently hitting new share price lows;
Travel restrictions due to Covid-19 pandemic have put strong negative pressure on the global tourism and airline sector. Flight demand has come again under negative pressure, which has already weighed on the share prices of some of the Airliners such as the American Airlines or the German flagship carrier Lufthansa. In the meantime, the rising number of coronavirus cases across the world could further postpone plans of the cruisers to restart their services, which could weigh on the stock price of some cruisers such as Royal Caribbean or Carnival. Vaccine hopes and more stimulus expected from the US administration for the battered airline industry, could, however, soon turn the sentiment around and provide possible recovery.
6. Increased daily volatility on forex market;
The uncertainty of how the pandemic will evolve and what governments will do next about it has significant economic consequences. Earlier projections showed the world economy is about to shrink this year by 4.9%. However, if a second wave hits, which now seems upon us, the global economy could be expected to contract by 7.6%. Governments and central banks will closely monitor the situation and their reaction will most surely affect the forex market.