MID-TERM TREND: DOWN
CRUDE OIL MARKET OVERVIEW:
Crude oil continued to struggle around the mark of 40.0, pressured by the rising coronavirus cases, leading countries to resume partial lockdowns that could hurt fuel demand. Crude oil managed to test its highest rate since early March 2020 on August 26 (43.75). However, Crude oil prices have remained under negative pressure ever since, breaking below the mark of 40.00.
DEMAND WORRIES REMAIN IN PLACE:
Oil's upside potential could remain capped at levels above 40.00 as coronavirus cases continued to rise across the world, leading countries to resume partial lockdowns that could hurt fuel demand. New outbreaks are reported in several countries, prompting governments to impose restrictions again.
The world printed another record one-day increase of new daily coronavirus cases on September 23, 2020, reminding the authorities that the virus is still present and more resections might be needed in order to contain the virus.
SUPPLY TO RISE:
From August, OPEC+ cuts will officially be reduced to 7.7 million bpd until December. The Organization of the Petroleum Exporting Countries and its allies, known as OPEC+, have been cutting output since May by 9.7 million barrels per day. That could imply bigger oil supply by OPEC+ starting August 2020.
Potentially higher oil supply from OPEC+ could put negative pressure on the oil prices.
Mid-Term Technical Outlook
From technical perspective, Crude oil could be expected to remain under negative pressure as suggested by the daily RSI (Relative Strength Index) Divergence (Negative). Negative divergence is a signal saying the asset's price should move lower, and appears when the asset's price moves higher but the Daily RSI moves lower. The black and orange trend lines on the daily Crude oil price chart explain this negative divergence more visually.
Moreover, Crude oil has remained below the 200 Day Exponential Moving Average, which could be an additional bearish signal.
If the analysis manages to live up to the technical expectations, the Crude oil price may retreat and eventually target Support 1 of 35.90.
If, however, the analysis fails to live up to the expectations and price extends its rally, Crude oil may target Resistance 1 of 43.50.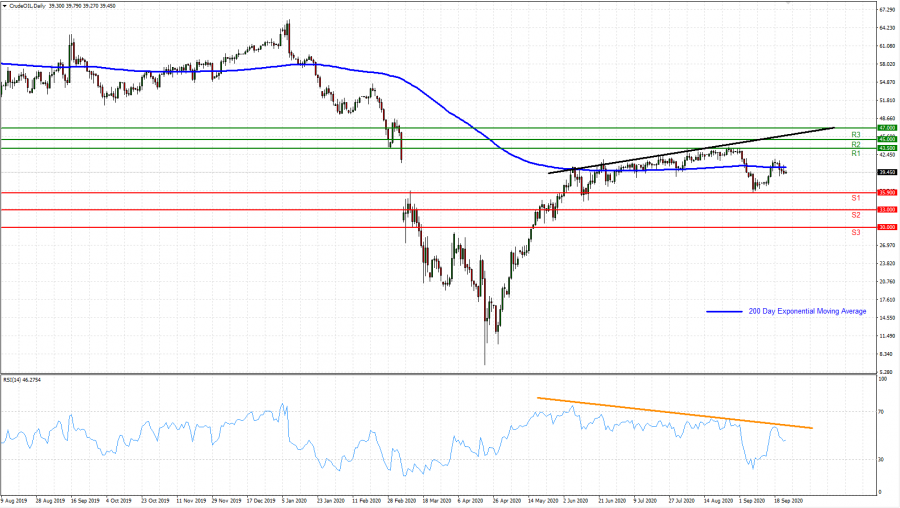 Graph: (Crude Oil, Daily)
Current Price: 39.700
| | |
| --- | --- |
| Crude Oil | Mid-Term |
| Trend direction | |
| | 47.00 |
| | 45.00 |
| | 43.50 |
| | 35.90 |
| | 33.00 |
| | 30.00 |
Example of calculation based on trend direction for 1.00 Lot*
Crude Oil

Pivot Points

Profit or loss in $

-7,300

-5,300

-3,800

3,800

6,700

9,700

Profit or loss in €**

-6,263

-4,547

-3,260

3,260

5,748

8,322

Profit or loss in £**

-4,918

-4,162

-2,984

2,984

5,261

7,617

Profit or loss in C$**

-9,779

-7,100

-5,090

5,090

8,975

12,994
* 1.00 lot is equivalent of 1000 units
** Calculations for exchange rate used as of 10:00 a.m. (GMT+1) 24/09/2020
Fortrade recommends the use of Stop-Loss and Take-Profit, please speak to your Senior Account Manager regarding their use.
*** You may wish to consider closing your position in profit, even if it is lower than suggested one
**** Trailing stop technique can protect the profit – Ask your Senior Account Manager for more details