MID-TERM TREND: UP
CRUDE OIL MARKET OVERVIEW:
Crude oil remained above the mark of 40.0, supported by recent COVID-19 vaccine news, despite rising coronavirus cases. Crude oil managed to test its highest rate since early March 2020 on August 26 (43.75). However, Crude oil prices have broken below the mark of 40.00 a few times, testing its lowest rate since late May (33.61) on November 2. Crude Oil has continued to recover ever since to test levels above 43 again in late November 2020.
COVID-19 VACCINE PROGRESS INCREASES EXPECTATIONS FOR THE END OF THE PANDEMIC:
Pfizer and Moderna have come up with vaccine data showing strong efficacy with their covid-19 vaccine (95% and 94.5%, respectively). The markets liked that as they expect soon in 2021 the new vaccines to be available for mass vaccination, which should help end the pandemic. In addition, Pfizer said have achieved safety data milestones required by FDA (Food and Drug Administration) and it filed for emergency-use authorization on Friday (November 20), with results to be announced after December 10. Moderna will soon follow with their own application.
OIL DEMAND REMAINED STEADY DESPITE RECENT LOCKDOWNS:
US: Oil demand in the US has continued to recover as shown by falling US oil inventories. According to the latest reports from the US Energy Information Administration, US ending stocks excluding Strategic Petroleum Reserves fell to their lowest since March to retreat down to 489.475 million barrels. This is down from 525.969 million barrel reached in June 2020 due to lockdowns in the US.
ASIA: Oil demand recovery is also seen in Asia, led by China, India and South Korea. According to Bloomberg, China's recovery from the Covid-19 pandemic is providing some welcome respite to the hardest-hit segment of the oil market as domestic air travel recovers to near pre-virus levels. The uptick in travel is contributing to a recovery in returns from making jet fuel from crude oil.
OPEC+ MEETING (November 30-December 1)
OPEC's new downward revision of its oil demand forecasts has given the market all the more reasons to expect that the OPEC+ group will roll over the 7.7-million-bpd cut into 2021 (three to six months), instead of easing it by 2 million bpd from January. The OPEC+ members will be also expected to make pledges to support the oil markets whenever that is necessary.
ANALYSTS OPINION (GOLDMAN SACHS/JPMorgan/CITIGROUP/BANK OF AMERICA).
Goldman Sachs said that WTI Crude oil prices could average at $44.00 in Q1 2021. JPMorgan expected Crude Oil prices to average around $45.50 in 2021, while Citigroup expected prices to go up to $45 by the end of the quarter (Q4). Bank of America sees Crude Oil prices between 43 and 47 in the fourth quarter of 2021. Barclays Bank forecasts for WTI Crude oil price in 2021 stood at $50.
MID-TERM TECHNICAL OUTLOOK
Crude Oil could be expected to stay on the upside as it managed to stay above its 200 Day Exponential Moving Average and above the rate of 40.
The Daily Relative Strength Index (RSI) has also remained upward sloping but below the overbought threshold of 80, meaning that Crude Oil has still room to the upside.
If the analysis manages to live up to the technical expectations, the Crude oil price may extend its rally and eventually target Resistance 1 of 46.00 and Resistance 2 of 48.00 in extension.
If, however, the analysis fails to live up to the expectations and price fails to extend its rally, Crude oil may target Support 1 of 39.90.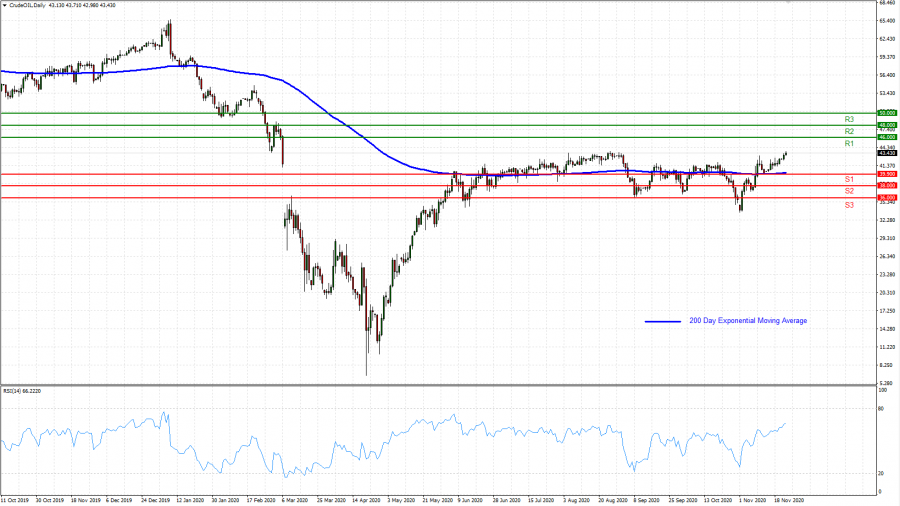 Graph: (Crude Oil, Daily)
Current Price: 42.90
| | |
| --- | --- |
| Crude Oil | Mid-Term |
| Trend direction | |
| | 50.00 |
| | 48.00 |
| | 46.00 |
| | 39.90 |
| | 38.00 |
| | 36.00 |
Example of calculation based on trend direction for 1.00 Lot*
Crude Oil

Pivot Points

Profit or loss in $

7,100.00

5,100.00

3,100.00

-3,000.00

-4,900.00

-6,900.00

Profit or loss in €**

5,979.80

4,295.35

2,610.90

-2,526.68

-4,126.91

-5,811.36

Profit or loss in £**

4,469.78

3,812.14

2,317.19

-2,242.44

-3,662.65

-5,157.61

Profit or loss in C$**

9,247.54

6,642.60

4,037.66

-3,907.41

-6,382.10

-8,987.04
* 1.00 lot is equivalent of 1000 units
** Calculations for exchange rate used as of 9:24 a.m. (GMT) 24/11/2020
Fortrade recommends the use of Stop-Loss and Take-Profit, please speak to your Senior Account Manager regarding their use.
*** You may wish to consider closing your position in profit, even if it is lower than suggested one
**** Trailing stop technique can protect the profit – Ask your Senior Account Manager for more details