Fundamental Overview: So far, 2019 showed us that there is substantial volatility in crude oil prices. Since, January 1 till, April 23, when crude oil touched its highest value so far this year (66.58$), the price of this commodity rose 45%. However, after April 23, the price of this commodity fell almost 8%. On the basis of current market conditions, we could point to two fundamental drivers for crude oil price volatility.
Fundamental drivers that create downward pressure on crude oil prices:
1. Trade war.
Threat of trade war escalation between the US and China create concerns that overall economic activity will be reduced.
As a consequence, demand for crude oil as one of the most important raw materials in production, could also be reduced thus putting crude oil prices under negative pressure. Additionally, trade war disputes are not limited just to US and China. Although these are the two most developed world economies, trade disputes also exist between US from one side and EU and Japan on the other. On May 18, US administration will decide if and when will put auto tariffs on producers of car makers from EU. President Trump, received a "Section 232" investigation report in February, widely believed to have concluded that car and auto part imports pose a risk to national security.
2. Increasing production of US crude oil.
With its production of 12,200 barrels per day, the US is currently the largest producer of this commodity in the world. It even surpassed the number 1 producer among OPEC cartel members, Saudi Arabia and Russia who was until recently non OPEC's largest crude oil producer.
Weekly US. Filed Production of Crude Oil


Source: US. Energy Information Administration.
Fundamental drivers that create upward pressure on crude oil prices.
1. Crisis in countries and regions that are crude oil 'rich' (Iran, Venezuela, Libya)
Recently Iran, threatened to seal the Hormuz straight, which is an important point for the export of crude oil from the Persian Gulf. That threat was responded to by the US administration who sent aircraft carrier group USS Abraham Lincoln to the Persian Gulf. Additionally, Saudi Arabia's Energy Minister Khalid al-Falih said on May 13, that two Saudi oil tankers were targeted on Sunday in "a sabotage attack" off the coast of Fujairah, part of the United Arab Emirates, threatening the security of global oil supplies.
In Venezuela, the situation is not getting any better. On Sunday, May, 12, a Venezuelan general called on the country's armed forces to rise up against President Nicolas Maduro, who has relied on the backing of the military to hold on to power despite economic collapse. Additionally, Venezuelan opposition leader Juan Guaido said on Saturday he has asked his envoy to the United States to meet with Pentagon officials to "cooperate" on a solution to the South American country's political crisis.
As for Libya's domestic situation, the United Nations Security Council called on all parties to the Libya conflict on Friday to commit to a ceasefire and return to U.N.-led mediation
Technical Overview: After April 23, when crude oil touched its highest level so far this year, the price of this commodity fell and it is currently around the level of 62.22 dollar per barrel. On the basis of recent price movements, we could point to two possible price scenarios.
Scenario 1: After the recent price drop, crude could recover and head to resistance 1 of 66.98$. This scenario is backed by the fact that on the weekly graph crude oil price finds strong support on 100 – day Simple Moving Average (dark line on the graph). Additionally, RSI, Stochastic and MACD oscillators on the weekly graph indicates an uptrend.
Scenario 2: The recent price recovery is just temporary. The current price of this commodity is heading to the 60-day Simple Moving Average (blue line on the graph). If this MA turned out to be a strong resistance point, the price could drop to pivot line of 61.50$ per barrel. If the price goes below the pivot line, then it could test Support 1 of 56.43$.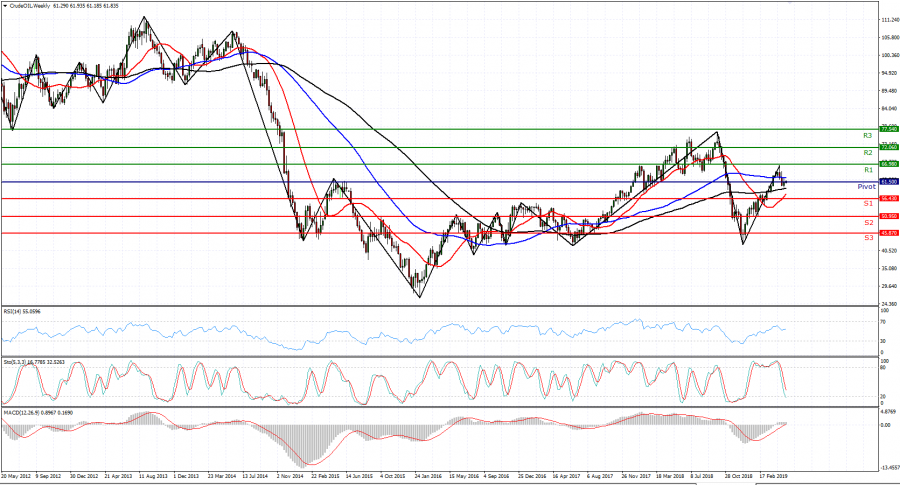 Graph: Crude Oil, Weekly
| | |
| --- | --- |
| Pivot Point: | 61.50 |
| Resistance 3: | 77.54 |
| Resistance 2: | 72.06 |
| Resistance 1: | 66.98 |
| Support 1: | 56.43 |
| Support 2: | 50.95 |
| Support 3: | 45.87 |