Tension in the Middle East rise as two oil tankers struck in suspected attacks in Gulf of Oman: Last week reports came out saying that two oil tankers were hit in suspected attacks in the Gulf of Oman, sending oil prices as much as 4% higher and all that just a month after four other tankers were damaged by limpet mines in the region. According to Reuters, one of the tankers, the Front Altair, carrying a cargo of petrochemical feedstock, was ablaze in waters between Gulf Arab states and Iran. Oil prices were pressured higher as the region was already on edge following attacks in May on Gulf oil assets that occurred amid a dispute between Iran and the United States over Tehran's nuclear program. The Gulf of Oman lies at the entrance to the Strait of Hormuz, a major strategic waterway through which a fifth of global oil consumption passes from Middle East producers.
Oil gains amid Middle East tensions, U.S.-China trade deal hopes
According to Reuters, oil prices rose on Tuesday (June 18) after U.S. President Donald Trump said he would hold an extensive meeting with Chinese President Xi Jinping at the G20 summit later this month. China and the United States will restart trade talks ahead of a meeting next week (June 28- 29) between Presidents Donald Trump and Xi Jinping, cheering financial markets on hopes that an escalating trade war between the two countries would abate. Trump said on Tuesday that teams from the two sides would begin preparations for the leaders to sit down at the G20 summit in Osaka. China, which previously declined to say whether the two leaders would meet, confirmed the get-together.
Technical Outlook
Crude oil rose on Tuesday to test rates above 54.00 dollars a barrel. In fact, Crude oil rose to Fibonacci 50.0% (Pivot Point of 54.479), which is a very familiar resistance to Crude oil as it has failed to break above it on several occasions for the past 20 days. Crude oil, however, managed to break above its downtrend line (red), which along with the rising Daily Relative Strength Index could prove to be more bullish for Crude prices. If Crude oil manages to break above Fibonacci 50.0% (Pivot Point of 54.479), it can then be expected that prices may extend their recovery toward Fibonacci 38.2% (Resistance 1 of 57.331).
If, however, Crude Oil fails to break above Fibonacci 50.0% (Pivot Point of 54.479), the bears might happen to regain control and therefore Crude prices could be expected to retreat down to a very familiar Support level, that of Fibonacci 61.8% (51.628).
| | |
| --- | --- |
| Pivot Point: | 54.479 |
| Resistance 3: | 66.571 |
| Resistance 2: | 60.868 |
| Resistance 1: | 57.331 |
| Support 1: | 51.628 |
| Support 2: | 48.090 |
| Support 3: | 42.388 |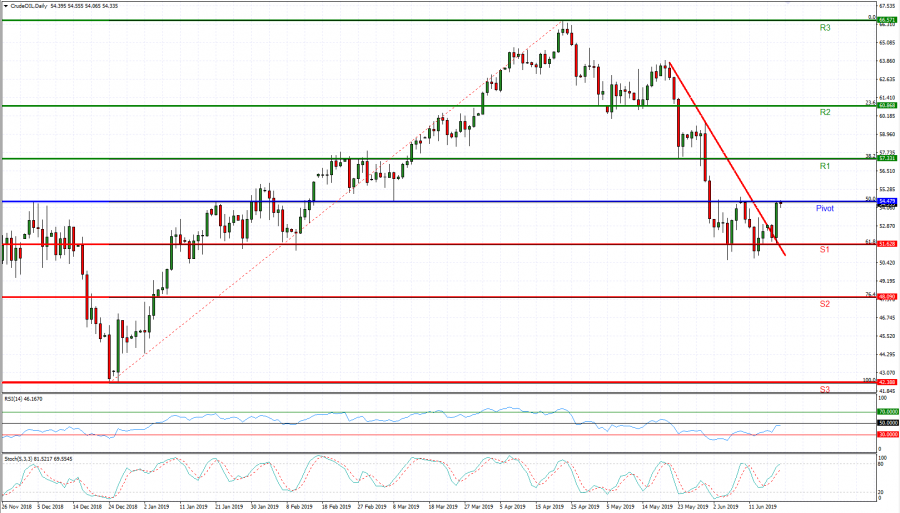 Graph: (Crude Oil, Daily)