Tension in the Middle East rise as two oil tankers struck in suspected attacks in Gulf of Oman (June 13). US President Donald Trump pulls back from launch of military strikes on Iran after initial approval (June 21): U.S. President Donald Trump approved military strikes on Friday against Iran in retaliation for the downing of an unmanned $130-million surveillance drone, but pulled back from launching the attacks, the New York Times said.
Trump had initially approved strikes on a handful of targets such as radar and missile batteries, the paper cited senior administration officials involved in, or briefed on, the deliberations, as saying. The strikes were set to take place just before dawn on Friday to minimize risk to the Iranian military or to civilians, it added. Planes were in the air and ships were in position, but no missiles fired, when the order to stand down came, it cited one senior administration official as saying.
However, it is not clear whether attacks on Iran might still go forward. It was not known if the cancellation of strikes had resulted from Trump changing his mind or administration concerns regarding logistics or strategy.
Technical Outlook
Crude oil rose on Thursday by around 5.00% to hit its highest rate in three weeks (57.740). Crude oil, however, pulled back on Friday to trade below the rate of 57.331 (Fibonacci 38.2%= Pivot Point), which could prove to be a strong Resistance to Crude Oil's upward pathway. The Daily Stochastic Indicator (5, 3, 3) is showing signs of Crude oil being overbought, which could cause a short- term downward correction to Support 1 of 54.479 (Fibonacci 50.0%).
The Daily Relative Strength Index, however, shows that Crude Oil still has room to rise as the index has just broken above the level of 50.0 targeting next the rate of 70.00 (Overbought threshold). If Crude oil manages to live up to RSI expectations and manages to break above its Pivot Point of 57.331, it could be then expected Crude Oil's recovery to continue up toward Resistance 1 of 60.868 (Fibonacci 23.6%).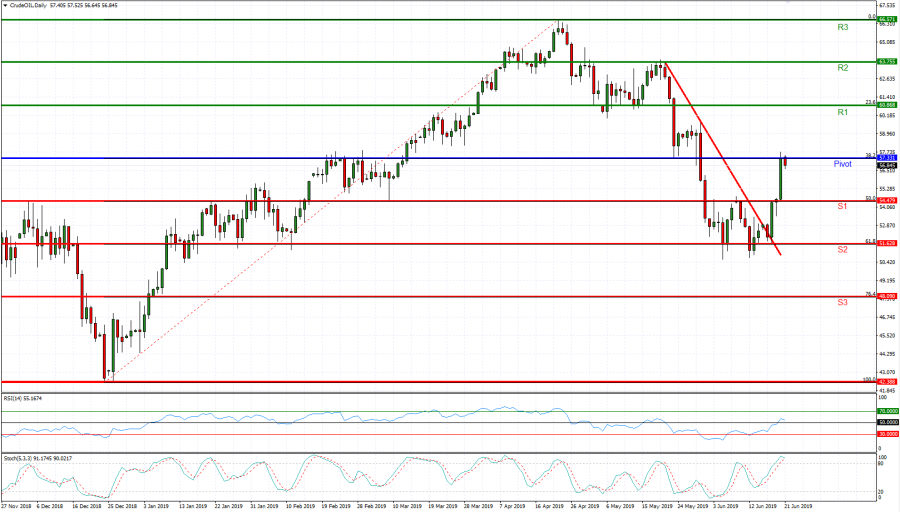 Graph: (Crude Oil, Daily)
| | |
| --- | --- |
| Pivot Point: | 57.331 |
| Resistance 3: | 66.571 |
| Resistance 2: | 63.755 |
| Resistance 1: | 60.868 |
| Support 1: | 54.479 |
| Support 2: | 51.628 |
| Support 3: | 48.090 |