Falling Oil Inventories in the US continued to provide support to Oil prices as Crude Oil hit its highest rate in seven weeks (60.905): In July, US oil inventories continued to fall, which is considered a positive signal for the demand side as the latter has been struggling lately. The latest data by the US Energy Information Administration, showed that US oil inventories fell by 9.50 million barrels in the week to July 5, which marked the fourth consecutive decline, where total US oil inventories have fallen by 26.50 million barrels.
MIDDLE EAST TENSIONS
In June, U.S. President Donald Trump targeted Iranian Supreme Leader Ayatollah Ali Khamenei and other top Iranian officials with sanctions, taking a dramatic, unprecedented step to increase pressure on Iran after Tehran's downing of an unmanned American drone. The US has also accused Iran for attacks on two oil tankers in the Gulf of Oman (June 13), but Tehran bluntly denied the allegation. Additionally, Iran said that it would speed up enrichment of uranium after a deadline given to European countries to prevent this ends on Thursday (June 27). Iran said in early July it will shortly boost its uranium enrichment above a cap set by a landmark 2015 nuclear deal. In a live news conference, senior Iranian officials threatened further violations, saying Tehran would keep reducing its commitments every 60 days unless European parties to the agreement protected it from sanctions imposed by Trump. "In a few hours the technical process will come to an end and the enrichment beyond 3.67% will begin," officials added, referring to the limit set in the 2015 agreement. Iran also threatened to restart deactivated centrifuges and ramp up enrichment of uranium to 20% purity in a move away from the 2015 nuclear deal. U.S. President Donald Trump that Tehran was "playing with fire."
Technical Outlook
Crude Oil extended its gains this week rising more than 3 dollars per barrel. On the way up, Crude oil managed to break above its long- term downtrend line (red line), managing to stay within its medium- term uptrend channel (black boundaries). Furthermore, Crude oil managed to break above Fibonacci 61.80% (Pivot Point of 60.469), meaning that Crude Oil's upward correction could be extended up to Fibonacci 76.4% (Resistance 1 of 62.801), when it should be put to the test again. Crude Oil has also managed to break above its 50, 100 and 200 Day Exponential Moving Averages, while its Daily Relative Strength Index remained upward sloping above the rate of 50.0.
To downside, Crude oil looks to Support 1 of 58.579, if the black gold breaks suddenly below the Pivot Point of 60.469 (Fibonacci 61.8%). The downside risk comes in the form of markets seeing Fibonacci 61.80% as its last upward stop, meaning that the upward recovery could end at exactly Fibonacci 61.80%.
| | |
| --- | --- |
| Pivot Point: | 60.469 |
| Resistance 3: | 66.575 |
| Resistance 2: | 64.735 |
| Resistance 1: | 62.801 |
| Support 1: | 58.579 |
| Support 2: | 56.695 |
| Support 3: | 54.357 |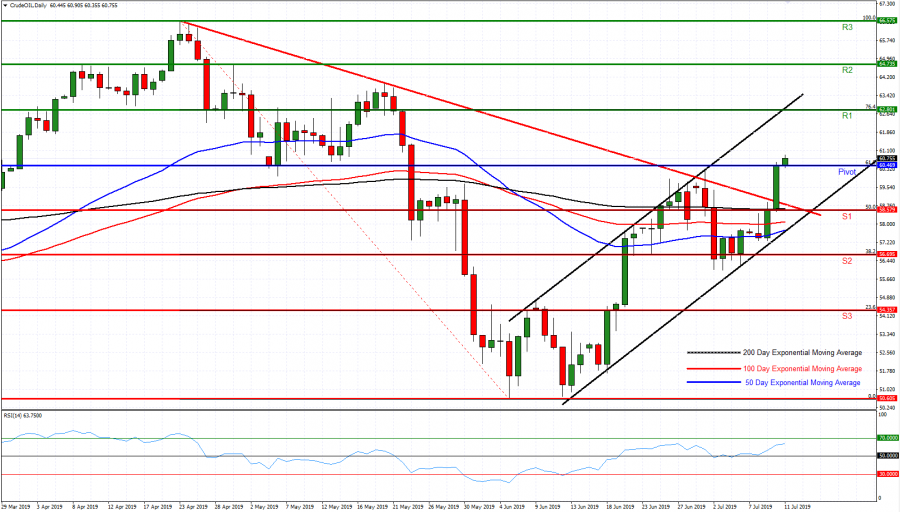 Graph: (Crude Oil, Daily)