TREND: UP
U.S.-China made progress on trade. Will the optimism last for longer?
U.S. President Donald Trump on Friday (October 11) outlined the first phase of a deal to end a trade war with China and suspended a threatened tariff hike, but officials on both sides said much more work needed to be done before an accord could be agreed. The emerging deal, covering agriculture, currency and some aspects of intellectual property protections, would represent the biggest step by the two countries in 15 months to end a tariff tit-for-tat that has whipsawed financial markets and slowed global growth.
OPEC hints at deeper output cuts
The Organization of the Petroleum Exporting Countries and its allies are considering deeper oil output cuts ahead of their December meeting, as producers confront a global crude glut and signs of weakening demand. OPEC Secretary General Mr. Barkindo said OPEC and its allies will make appropriate, strong, positive decisions to sustain oil prices when they meet December 5. Mr. Barkindo added that he was formally inviting the U.S. to join the cooperation pact that includes OPEC's 14 members and 10 Russia-led allies.
MIDDLE EAST TENSIONS: France gives one month to get Iran-U.S. to negotiating table
According to Reuters, France's foreign minister has warned that Iran and the United States have one month to get to the negotiating table, suggesting that Tehran's plan to increase its nuclear activities in November would spark renewed tension in the region. Iran is breaching restrictions of its 2015 nuclear deal with major powers step-by-step in response to U.S. sanctions imposed since Washington pulled out of the agreement in May of last year. Iran has said its next reductions would be at the start of November and diplomats fear the next move could force European powers who are trying to salvage the accord to respond. Unlike after previous breaches. Iranian President Rouhani has lately refused to talk to the US as long as the US sanctions on Iran remain in place. US President Donald Trump, on the other hand, has not shown any strong will to ease the sanctions on Iran, meaning that the impasse could continue into November. Anxiety among oil investors should be expected grow, which in turn, could lead to higher oil prices.
US Federal Reserve is expected to further cut its benchmark interest rate in 2019
The US Fed cut the benchmark interest rate on September 18 by 25 basis points as expected, pushing it down to 2.00%. According to their statement, the US Fed is not expected to cut rates anymore in 2019, but the markets hold a different view. In fact, Bloomberg suggests that the markets hold a probability rate of 90.1% that the US Fed will cut the benchmark interest rate once again by at least 25 basis points by the end of 2019. It is worth noting that the markets have been right twice for the past two meetings (July and September). The US Federal Reserve is set to meet again on October 30.
| | |
| --- | --- |
| Pivot Point: | 52.000 |
| Resistance 3: | 62.986 |
| Resistance 2: | 59.081 |
| Resistance 1: | 56.000 |
| Support 1: | 48.100 |
| Support 2: | 45.000 |
| Support 3: | 42.340 |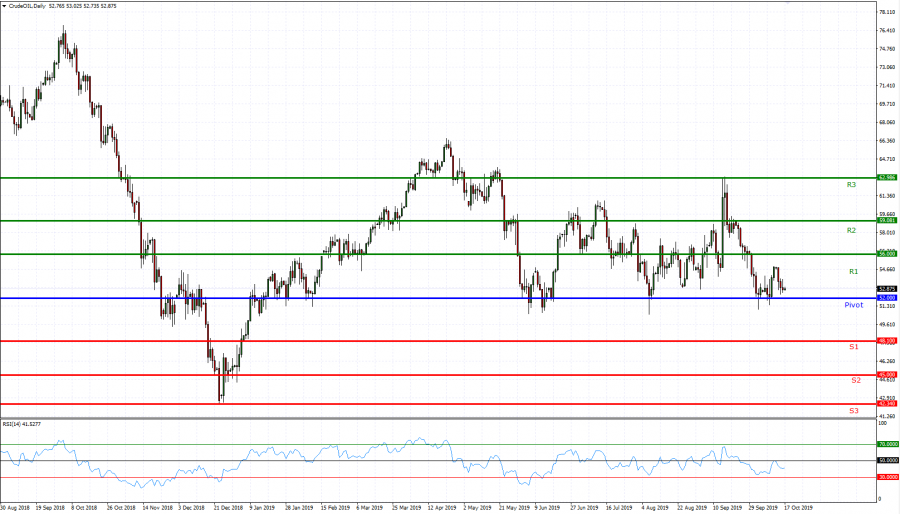 Graph: (Crude Oil, Daily)
Example of calculation based on weekly direction for 1.00 Lot*
Crude Oil*

Pivot Points

Profit or loss in $

10,986.00

7,081.00

4,000.00

-3,900.00

-7,000.00

-9,660.00

Profit or loss in €***

9,921.70

6,395.01

3,612.49

-3,522.18

-6,321.85

-8,724.16

Profit or loss in £***

8,598.26

5,541.99

3,130.63

-3,052.36

-5,478.59

-7,560.46
* 1.00 lot is equivalent of 1000 units
*** Calculations for exchange rate used as of 8:12 a.m. (GMT +1) 17/10/2019
Fortrade recommends the use of Stop-Loss and Take-Profit, please speak to your Senior Account Manager regarding their use.
**** Please, consider closing your position in profit, even if it is lower than suggested one
***** Trailing stop technique can protect profit – Ask your Senior Account Manager for more details