Fundamental Overview
EU's largest economy weakening
German Bundesbank President, Jens Weidmann, outlined last week that German economic growth might slow down throughout 2019. Meanwhile, the USA is also threatening hefty tariffs upon the EU and the German-US 10-year yield spread is dropping lower into negative territory. Even though the ZEW economic sentiment survey has to some degree reassured investors about the region's economic outlook, softer German industrial production results has left policymakers and markets concerned about the current conditions in Germany and throughout the EU.
Euro zone inflation slowed in March and the core figure fell lower, the European Union's statistics office said on Wednesday, which was in line with its initial estimates. Eurostat said prices in the 19-nation currency bloc rose 1.4% in March on the year, from a 1.5% increase a month earlier, confirming the previous reading. An inflation indicator that excludes energy, food, alcohol and tobacco was also confirmed dipping to 0.8% from 1.0 % in the previous month. Additionally, the German government cut its 2019 growth forecast for the second time in three months on Wednesday. The government now expects gross domestic product growth of 0.5% this year. In January, the government had cut its growth estimate to 1.0% from 1.8% previously.
Turkey's economy is weakening
Turkey's lira fell to a one month low against the euro at the beginning of the week as President Erdogan's ruling AK Party formally requested a new election for the city of Istanbul, where the current count shows it lost by a small margin in local elections last month. The move means more difficulties may lie ahead for an economy already shaken by volatility, political tensions and diplomatic conflicts and whose currency crash last year set off a run on emerging markets.
Efforts by the Turkish central bank to prop up the lira by cutting deep into its reserves aren't helping. Turks are increasingly exchanging their Lira into foreign currencies and doing business in euros and dollars. Moody's said it expects the Turkish economy to contract by 2% in 2019.
Technical Overview
After hitting a one month high at the beginning of the week EUR/TRY has started to reverse. Despite the previous strong uptrend, inability to go above the previous high of 6.6027 reached in late March, shows that the trend has lost its steam and there is a possibility for an incoming correction. Both MACD and Stochastic are showing that the price has been in the overbought zone for a while which could indicate a possible reversal. If the price manages to go below the pivot line (6.47118), this week's low, it could go further towards S1 (6.30637) and if weakness continues it could go even further down to S2 (6.11103) and S3 (5.94012). But if the price manages to rebound from the pivot line and bounces back up it could go up to R1 (6.72755) and if the trend gains strength it could climb even further to R2(6.93510) and R3(7.11212).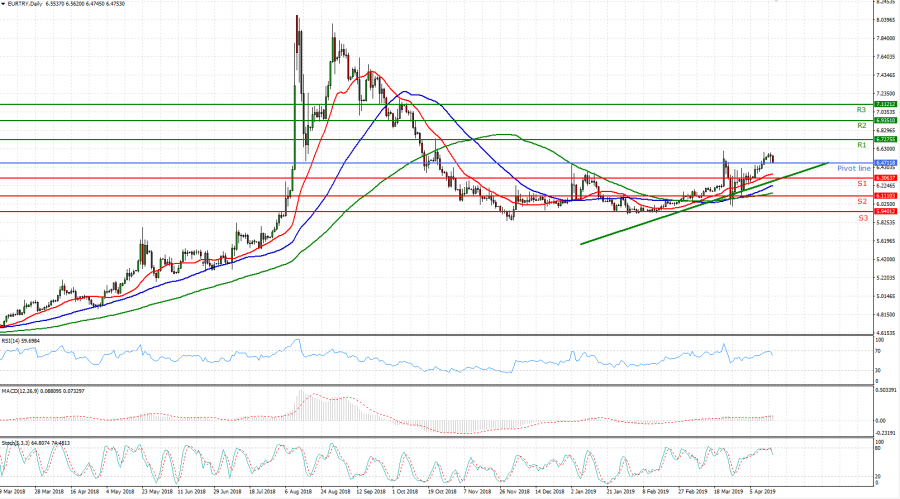 Graph: (EUR/TRY, Daily)
| | |
| --- | --- |
| Pivot Line: | 6.47118 |
| Resistance 3: | 7.11212 |
| Resistance 2: | 6.93510 |
| Resistance 1: | 6.72755 |
| Support 1: | 6.30637 |
| Support 2: | 6.11103 |
| Support 3: | 5.94012 |