WEEKLY TREND: DOWN
Britain and EU say work remains to be done to reach Brexit deal. Brexit talks are expected to continue this week, but will there be enough material for a deal to be clinched.
According to Reuters, Britain and the European Union said a lot more work would be needed to secure an agreement on Britain's departure from the bloc. British Prime Minister Boris Johnson told his cabinet a last-minute deal was still possible as the two sides pressed on with intensive talks to try to avoid a disorderly Brexit on October 31, the date set for Britain's departure. Britain said the latest talks had been "constructive" and there would be more talks on Monday. Boris Johnson will speak to the German chancellor, Angela Merkel, president Emmanuel Macron of France and the European commission president, Jean-Claude Juncker, by the end of Monday to urge them to support his Brexit deal, the Sunday Times has reported.
Special Brexit Summit (October 17- 18)
Mr. Johnson hopes a deal will be agreed in time for EU leaders to approve it at a summit in Brussels on Thursday and Friday (October 17- 18). But he would still have to convince a deeply divided British parliament to ratify the agreement, probably at a rare Saturday session on October 19. If he failed, lawmakers would begin a battle to delay Brexit that could end up being decided in the courts. Johnson has said he would do his utmost to pull Britain out on October 31, even without a deal - a move he believes would boost his hopes of political survival.
The GBP/USD rose significantly last week to test a multi- month high of 1.27000, jumping from its earlier lows of around 1.22000. Meanwhile, the Daily Relative Strength index also rose, testing its overbought threshold of 70.0. According to this oscillator, the GBP/USD could undergo a short- term downward correction over the period ahead. The pair has also failed to break above its longer- term upper downtrend channel line, which could suggest that maybe the GBP/USD will remain in its downtrend channel. According to that analogy, the GBP/USD could suffer declines over the period ahead. To the downside, the pair might be expected to target Support 1 of 1.23700.
If, however, the GBP/USD manages to break above its longer- term upper downtrend channel line, it may be expected the GBP/USD to turn more bullish and extend its gains toward Resistance 1 of 1.28200.
| | |
| --- | --- |
| Pivot Point: | 1.26000 |
| Resistance 3: | 1.31760 |
| Resistance 2: | 1.30000 |
| Resistance 1: | 1.28200 |
| Support 1: | 1.23700 |
| Support 2: | 1.21928 |
| Support 3: | 1.20109 |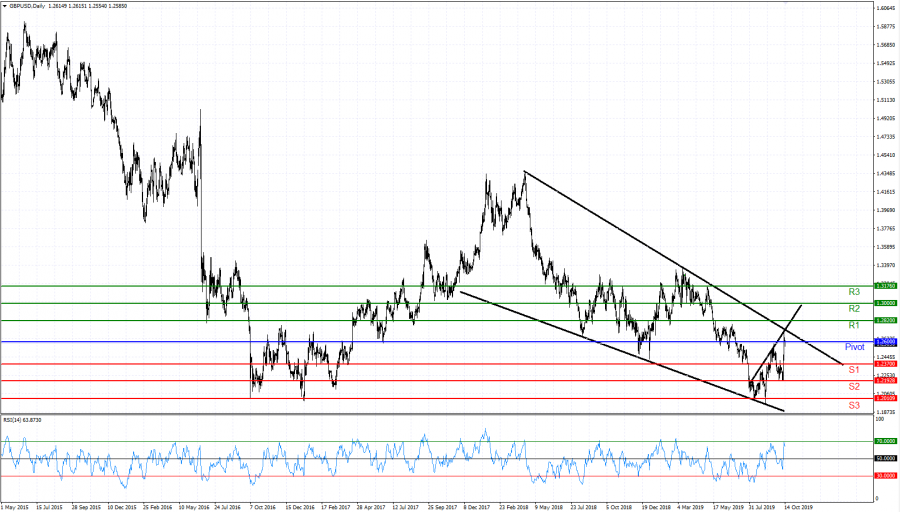 Graph: (GBP/USD, Daily)
Example of calculation based on weekly direction for 1.00 Lot*
GBP/USD*

Pivot Points

Profit or loss in $

-5,760.00

-4,000.00

-2,200.00

2,300.00

4,072.00

5,891.00

Profit or loss in €***

-5,229.76

-3,631.77

-1,997.48

2,088.27

3,697.15

5,348.70

Profit or loss in £***

-4,578.15

-3,179.27

-1,748.60

1,828.08

3,236.50

4,682.27
* 1.00 lot is equivalent of 100 000 units
*** Calculations for exchange rate used as of 8:40 am (GMT +1) 14/10/2019
Fortrade recommends the use of Stop-Loss and Take-Profit, please speak to your Senior Account Manager regarding their use.
**** Please, consider closing your position in profit, even if it is lower than suggested one
***** Trailing stop technique can protect profit – Ask your Senior Account Manager for more details