Fundamental Overview: The Positive tone regarding US – China trade talks also had a positive reflection on European equities. If we observed the German index, on April 4, price of this index rose to level of 12045.50 which was the highest level since the beginning of October 2018.
Inflation data (CPI) in the Eurozone has dropped to the level of 1.4%, GDP data from the Eurozone on a yearly basis suggests that economic activity rose less than expected. The Eurozone economic slowdown was also highlighted by the European Central Bank. On its last monetary policy meeting, ECB postponed its timeline for raising its own interest rate and at the same time announced a new round of low-cost funding to banks, known as TLTROs, effectively admitting that the slowdown across the euro zone's economy will last longer than first thought. The situation in the most developed EU economy is also not so different. Manufacturing activity in Germany is indicating a sign of economic contraction, while German industrial production and the trade balance was also below expectations.
Additional pressure on European equities was induced after U.S. Trade Representative (USTR) on Monday proposed a list of European Union products ranging from large commercial aircraft and parts to dairy products and wine on which to slap tariffs as retaliation for European aircraft subsidies. With the move, the USTR said it was kicking off the process for retaliation against over $11 billion worth of damages from EU subsidies to Airbus that the World Trade Organization has found cause "adverse effects" to the United States.
Technical Overview: From the perspective of technical analysis, shown on daily graph price of this index, on 4 April last week the index touched the higher bounder of trading channel. On the foundation of recent price movement, two possible scenarios could be concluded:
Scenario 1: After price touched the upper bounder of trading channel, the price could continue to go down. This scenario is supported by the fact that RSI and Stochastic oscillators are in deep overbought territory which could be sign of a downtrend. MACD oscillator, although still not in overbought territory, is showing signs of a slowdown. If this scenario prevails, price could touch the level of 11497.50 which is support 1.
Scenario 2: After short correction, the price of this index could recover and continue to appreciate. In this case, price could test Resistance 1 of 12422.20. The fact that current price is above 20, 60, 100 simple moving averages, provides logic for this scenario.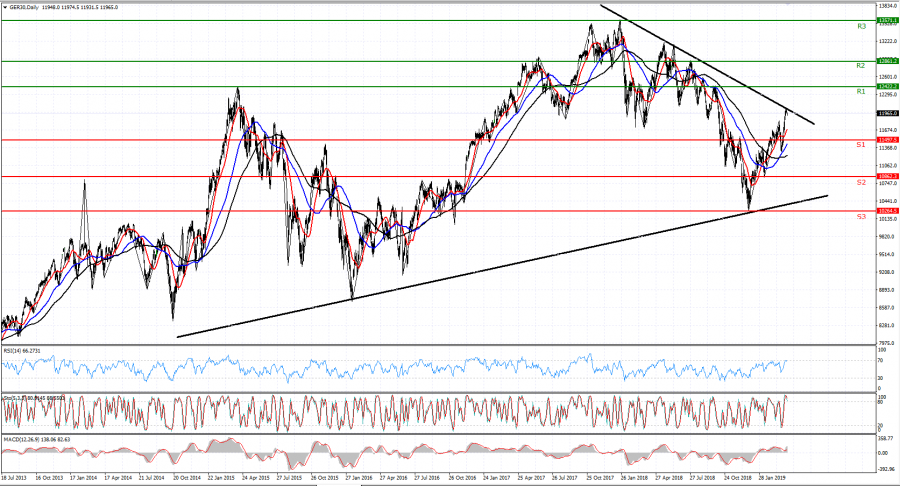 Graph: (GER30, Daily)
| | |
| --- | --- |
| Pivot Point: | 11965.00 |
| Resistance 3: | 13571.10 |
| Resistance 2: | 12861.20 |
| Resistance 1: | 12422.20 |
| Support 1: | 11497.50 |
| Support 2: | 10862.30 |
| Support 3: | 10264.50 |