MID-TERM TREND: UP
Gold: Overview
US PRESIDENTIAL ELECTION UNCERTAINTIES (November 3): Democrat Joseph Biden was declared the 46th President of the United States of America. But President Trump has not conceded yet, filing more lawsuits. Trump's team is expected to file lawsuits this week. They have evidence to sue in as many as 10 states. Then ultimately the Supreme court could consider these legal challenges. Earlier on Monday (November 9), Trump's campaign filed a lawsuit to block Pennsylvania officials from certifying Biden's victory in the battleground state.
EXPECTED MORE US STIMULUS TO DEVALUE THE US DOLLAR, POSITIVELY SUPPORT GOLD: The markets expect soon after the official election results are announced Democrats and Republicans will get back to the negotiating table to discuss another stimulus package. Some Republicans said that a new package should come before the end of 2020. Goldman Sachs predicts a relief package to be approved in December amounting circa $1 trillion.
US FEDERAL RESERVE EXPECTED TO KEEP INTEREST RATES NEAR 0.00% FOR A LONGER TIME-PERIOD: Federal Reserve Chair Jerome Powell unveiled a new approach to setting U.S. monetary policy, letting inflation and employment run higher in a shift that will likely keep interest rates low for years to come. Following a more than yearlong review, Powell has said that the Fed will seek inflation that averages 2% over time.
SAFE-HEAVEN DEMAND FOR GOLD DUE TO COVID-19 TRIGGERED FINANCIAL CRISIS: Gold could be expected to recover as demand for safe-haven assets remains high, supported by rising financial market uncertainties due to growing number of coronavirus cases worldwide. Many markets participants fear over possible implementations of lockdown measures across many countries, which in turn could humper the ongoing global economic recovery. Recent news from Pfizer on their significant COVID-19 vaccine progress injected some optimism within the markets, pushing down the value of Gold by around 100 dollars, but scientists agree that it will take time until a vaccine for mass vaccination is available.
ANALYSTS OPINION (CITIGROUP/UBS/Credit Suisse): CITIGROUP said Gold could hit a record before the year-end, aided in part by the risks surrounding the U.S. presidential election, according to Citigroup Inc. "Maintain our 6-12 month target at $2,300/oz". UBS has raised its forecast for gold next year from $1,850 to $2,100 per ounce. Credit Suisse updated their target price to $2175-$2300 per ounce.
Mid-Term Technical Outlook
Gold lost around 100 dollars on Monday (November 9), to test the mark of 1850 again.
From a technical perspective, Gold could be expected to recover as its Daily Relative Strength Index has recently fallen towards its oversold threshold of 30, suggesting a possible upward recovery.
Gold has also managed to stay above its 100 Day Exponential Moving average which has been lately acting as the support level.
Gold has also managed to stay above its mid-term uptrend line, suggesting that it will try to preserve its recent mid-term uptrend. In addition, Gold also managed to break out through the mid-term downtrend line, which could be another bullish signal.
On the upside, Gold could be expected to target Resistance 1 of 1942 and Resistance 2 of 2000 in extension. If, however, Gold fails to live up to the above-mentioned technical outlook, it could target Support 1 of 1800 to the downside.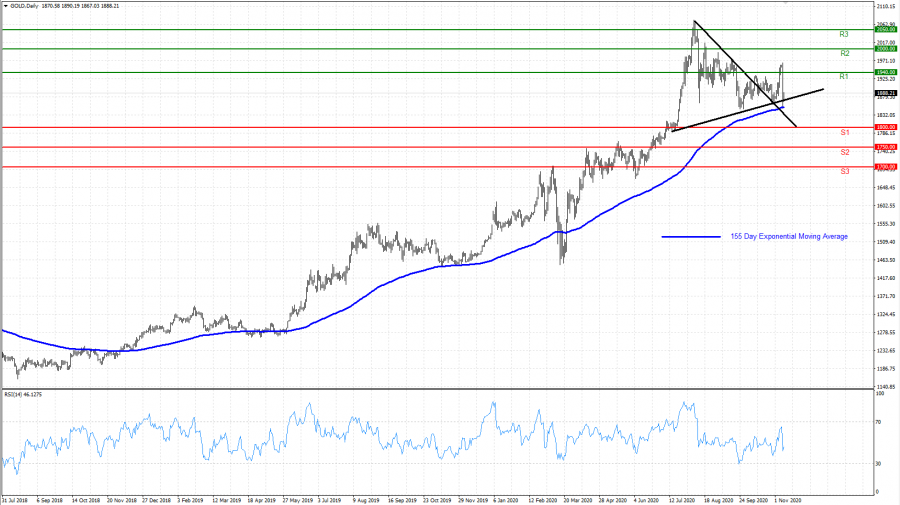 Graph: (Gold, Daily)
Current Price: 1870
| | |
| --- | --- |
| GOLD | Mid-Term |
| Trend direction | |
| | 2050 |
| | 2000 |
| | 1942 |
| | 1800 |
| | 1750 |
| | 1700 |
Example of calculation based on trend direction for 1.00 Lot*
GOLD

Pivot Points

Profit or loss in $

18,000.00

13,000.00

7,200.00

-7,000.00

-12,000.00

-17,000.00

Profit or loss in €**

15,206.56

10,982.51

6,082.62

-5,913.66

-10,137.70

-14,361.75

Profit or loss in £**

11,513.84

9,843.12

5,451.57

-5,300.14

-9,085.95

-12,871.77

Profit or loss in C$**

23,427.36

16,919.76

9,370.94

-9,110.64

-15,618.24

-22,125.84
* 1.00 lot is equivalent of 100 units
** Calculations for exchange rate used as of 8:48 a.m. (GMT) 10/11/2020
Fortrade recommends the use of Stop-Loss and Take-Profit, please speak to your Senior Account Manager regarding their use.
*** You may wish to consider closing your position in profit, even if it is lower than suggested one
**** Trailing stop technique can protect the profit – Ask your Senior Account Manager for more details