TREND: DOWN
Technical Outlook
From a technical perspective, Gold looks set to extend its downward correction as the Weekly Chart below points to an RSI Divergence Pattern. RSI Divergence forms when the price goes up and forms higher highs, and at the same time RSI (Relative Strength Index) goes down and forms lower highs. This pattern forms at the top of the bull markets (uptrends), and is known as a strong reversal pattern, and usually the price changes its direction and goes down when RSI Divergence forms.
If Gold succumbs to this pattern, and moreover, if gold remains below its Pivot of 1550.00, we can expect Gold to extend its declines down to Support 1 of 1510.00 and Support 2 of 1475.00 in extension.
If, however, the RSI Divergence pattern proves wrong and instead the Gold price moves up higher to reach new highs, we can then expect Gold to target Resistance 1 of 1589.00 and Resistance 2 of 1620.00 in extension.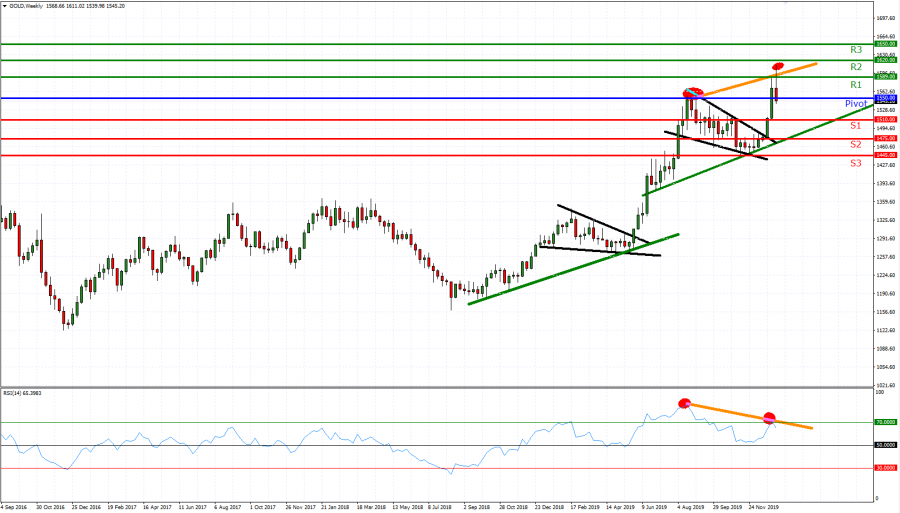 Graph: (Gold, Weekly)
| | |
| --- | --- |
| Pivot Point: | 1550.00 |
| Resistance 3: | 1650.00 |
| Resistance 2: | 1620.00 |
| Resistance 1: | 1589.00 |
| Support 1: | 1510.00 |
| Support 2: | 1475.00 |
| Support 3: | 1445.00 |
Example of calculation based on weekly direction for 1.00 Lot*
GOLD*

Pivot Points

Profit or loss in $

-10,000.00

-7,000.00

-3,900.00

4,000.00

7,500.00

10,500.00

Profit or loss in €***

-8,996.04

-6,297.23

-3,508.46

3,598.42

6,747.03

9,445.84

Profit or loss in £***

-7,641.17

-5,348.82

-2,980.06

3,056.47

5,730.88

8,023.23
* 1.00 lot is equivalent of 100 units
*** Calculations for exchange rate used as of 9:20 am (GMT) 09/01/2020
Fortrade recommends the use of Stop-Loss and Take-Profit, please speak to your Senior Account Manager regarding their use.
**** Please, consider closing your position in profit, even if it is lower than suggested one
***** Trailing stop technique can protect profit – Ask your Senior Account Manager for more details