Geopolitical and Fundamental Review
Recent Developments: The United States snapped sanctions back in place on Monday (November 5) to choke Iran's oil and shipping industries, while temporarily allowing top customers such as China and India to keep buying crude from the Islamic Republic. Washington has pledged to eventually halt all purchases of crude oil from Iran globally but for now it said eight countries - China, India, South Korea, Japan, Italy, Greece, Taiwan and Turkey - can continue imports without penalty. Crude exports contribute one-third of Iran's government revenues. The exceptions are designed to last 180 days. Iran's exports peaked at 2.8 million barrels per day (bpd) in April, including 300,000 bpd of condensate, a lighter form of oil. Overall exports have since fallen to 1.8 million bpd, according to energy consultancy Wood Mackenzie, which expects volumes to drop to 1 million bpd.
OPEC and non-OPEC partners are discussing potentially cutting oil production by as much as 1.4 million bpd to try to lift oil prices out of the current rout, Reuters reported last week. A proposal to reduce oil supply by 1.4 million was one of the options that the OPEC/non-OPEC joint committee discussed at the most recent meeting in Abu Dhabi. OPEC's Iran and the leader of the non-OPEC group Russia, however, have yet to be convinced to back such a proposal. After the OPEC-Non-OPEC Joint Ministerial Monitoring Committee (JMMC) meeting, OPEC said that the Joint Technical Committee (JTC) that reviews the state of the oil market is tasked with coming up with options on new 2019 production adjustments, which may require new strategies to balance the market. This was OPEC's admission that oversupply may be coming next year.
Technical Outlook
From a technical perspective, Heating oil may remain on the downside recently stalling at 100 and 200 Week Exponential Moving Average, as depicted on the weekly graph below. Heating Oil looks to be approaching Support 1 of 1.8997 (Fibonacci 50.0%), which could be reinforced if Heating Oil breaks below the 100 and 200 Week Exponential Moving Average. Touching Support 1 should not necessarily mean that Heating Oil will remain on the downside forever as it might keep trading within its longer- term uptrend channel, as depicted by the chart below. It is worth noting, however, that its price downfall could accelerate should Heating Oil break below Support 1 of 1.8997 and breaks out of the uptrend channel. Support 2 of 1.7721 could be then targeted by Heating Oil. If, however, prices manage to bounce off Support 1 or even better, off the 100 and 200 Week Exponential Moving Average, one can then expect prices to return toward Resistance 1 of 2.0309, represented by Fibonacci 38.2%.
| | |
| --- | --- |
| Current: | 1.9784 |
| Resistance 3: | 2.4485 |
| Resistance 2: | 2.1897 |
| Resistance 1: | 2.0309 |
| Support 1: | 1.8997 |
| Support 2: | 1.7721 |
| Support 3: | 1.6120 |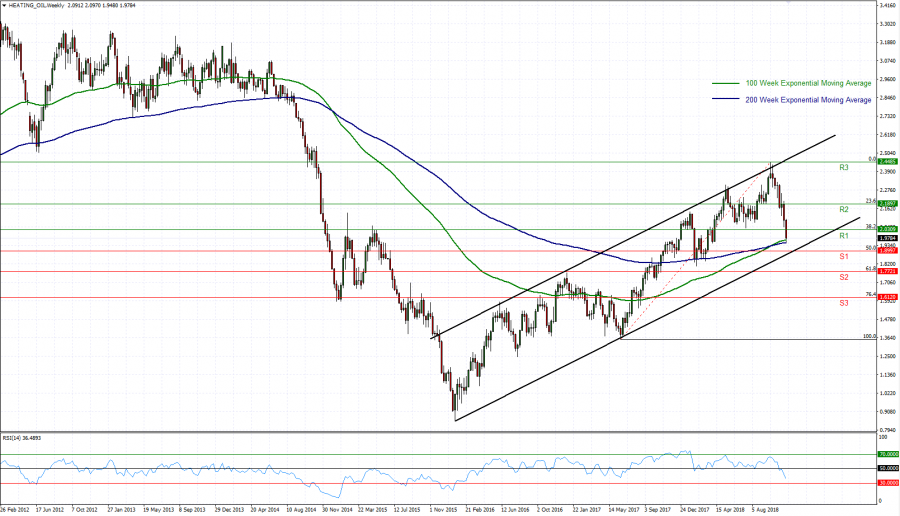 Graph: (Heating Oil, Weekly)