MID-TERM TREND: UP
COMPANY: Moderna, Inc. operates as a clinical stage biotechnology company. The Company focuses on the discovery and development of messenger RNA therapeutics and vaccines. Moderna develops mRNA medicines for infectious, immuno-oncology, and cardiovascular diseases. Moderna is also on its way to be among the first companies to provide the world with a COVID-19 vaccine.
MODERNA REPORTED 94.5% EFFICACY OF THEIR COVID-19 VACCINE (November 16): According to Reuters, Moderna Inc's experimental vaccine is 94.5% effective in preventing COVID-19 based on interim data from a late-stage trial. A week earlier, Pfizer's covid-19 vaccine data reported an efficacy rate of 90%. The vaccine is developed with new technology known as messenger RNA (mRNA) (which turns the human body into a vaccine factory by coaxing cells to make virus proteins that the immune system sees as a threat and attacks). Unlike Pfizer's vaccine, Moderna's shot can be stored at normal fridge temperatures, which should make it easier to distribute, a critical factor as COVID-19 cases are soaring. It will require though two vaccine shots 28 days apart.
MODERNA IS EXPECTED TO FILE FOR EMERGENCY USE AUTHORIZATION (EUA) IN THE COMING WEEKS: Moderna expects to have enough safety data required for U.S. authorization in the next week or so and expects to file for emergency use authorization (EUA) in the coming weeks. Earlier expectations stood at late November and early December.
THE EARLIEST US FOOD AND DRUG ADMINISTRATION (FDA) CAN BE EXPECTED TO APPROVE THE FIRST COVID-19 VACCINE IS THE SECOND HALF OF DECEMBER 2020: The earliest FDA/EUA approval of either the Moderna and/or Pfizer vaccine will be in the second half of December. The data that was released is preliminary and the FDA wants data from people after they get their second shots. The FDA needs to review both the trial data and the manufacturing data. Expect about 2 weeks together for both, once the FDA is given the final data.
MODERNA HAS ALREADY MADE DEALS FOR COVID-19 VACCINE DELIVERY: Moderna, part of the U.S. government's Operation Warp Speed program, expects to produce about 20 million doses for the United States this year, millions of which the company has already made and is ready to ship if it gets FDA authorization. Moderna has received nearly $1 billion in research and development funding from the U.S. government and has a $1.5 billion deal for 100 million doses. The government has an option for another 400 million doses. The company hopes to produce between 500 million and 1 billion doses in 2021, split between its U.S. and international manufacturing sites, depending in part on demand. Meanwhile, The U.K. announced an initial agreement with Moderna for five million doses. The announcement came months after the European Commission completed discussions to purchase 80 million doses of Moderna's vaccine, with the option to purchase another 80 million.
MODERNA POSTS BETTER THAN EXPECTED REVENUE FIGURES FOR QUARTER THREE (Q3): Moderna Inc. reported a per-share loss of 59 cents as revenue skyrocketed 826% to $157.91 million. The company as yet has no commercial products, so top-line results stem from collaboration and grant revenue. On average, analysts polled by FactSet had projected a loss of 38 cents per share on $80.6 million in sales.
Moderna Inc. stock price daily volatility
Daily stock price volatility increased to 7.84% per day in 2020.
Since mid-February 2020, when the Coronavirus crisis started to hit the stock markets, the average daily volatility has risen to 8.17%.
As of November 17, the five-day Moving Average Daily Volatility has stood at 8.02%.
Example of calculation based on Volatility for 1.00 Lot (1 lot = 1000 stocks)
Technical Outlook (Moderna Inc., Monthly, 2019-2020)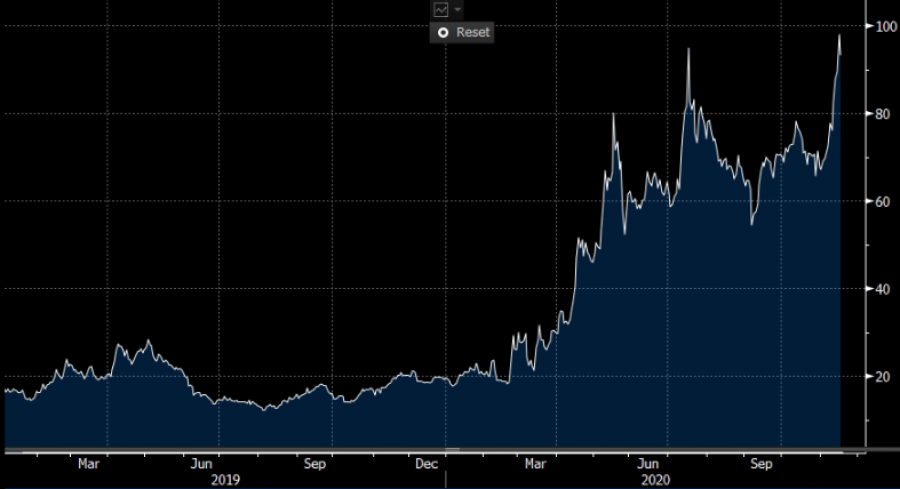 Source: Bloomberg
Current Price: 90
| | |
| --- | --- |
| Moderna Inc. | Mid-Term |
| Trend direction | |
| | 157 |
| | 121 |
| | 105 |
| | 75 |
| | 65 |
| | 55 |
Example of calculation based on trend direction for 1.00 Lot*
Moderna Inc.

Pivot Points

Profit or loss in $

67,000.00

31,000.00

15,000.00

-15,000.00

-25,000.00

-35,000.00

Profit or loss in €**

56,415.35

26,102.63

12,630.30

-12,630.30

-21,050.50

-29,470.71

Profit or loss in £**

42,460.34

23,331.78

11,289.57

-11,289.57

-18,815.95

-26,342.33

Profit or loss in C$**

87,502.00

40,486.00

19,590.00

-19,590.00

-32,650.00

-45,710.00
* 1.00 lot is equivalent of 1000 units
** Calculations for exchange rate used as of 10:30 (GMT) 18/11/2020
Fortrade recommends the use of Stop-Loss and Take-Profit, please speak to your Senior Account Manager regarding their use.
*** You may wish to consider closing your position in profit, even if it is lower than suggested one
**** Trailing stop technique can protect the profit – Ask your Senior Account Manager for more details