MID-TERM TREND: DOWN
Gap Analysis
On Monday October 26, the price created a huge gap of over 9% due to the rollover of the November futures contract expiring on October 25, with traders rolling out of the November contract to the December contract of higher prices. Over the last five years there have been 52 occurrences of gaps higher than 3%. Majority of those gaps have been filled during the first month after the appearance.

According to the last five years statistics, the highest probability that the gap will be filled is during the first 28 days in the month (73%) after it appeared. After that, the probability is drastically decreasing. Taking this in consideration, there is a high probability that the price could fall back to $2.935 in the next 4 weeks.
Please note that past performance does not guarantee future results.
Natural Gas price daily volatility
Average Daily stock price volatility increased to 2.41% per day during the period of one year.
Since the beginning of the year when the Coronavirus crisis started to hit the stock markets, the average daily volatility has risen to 2.51%.
As of September 26, Daily Volatility has averaged 2.62%.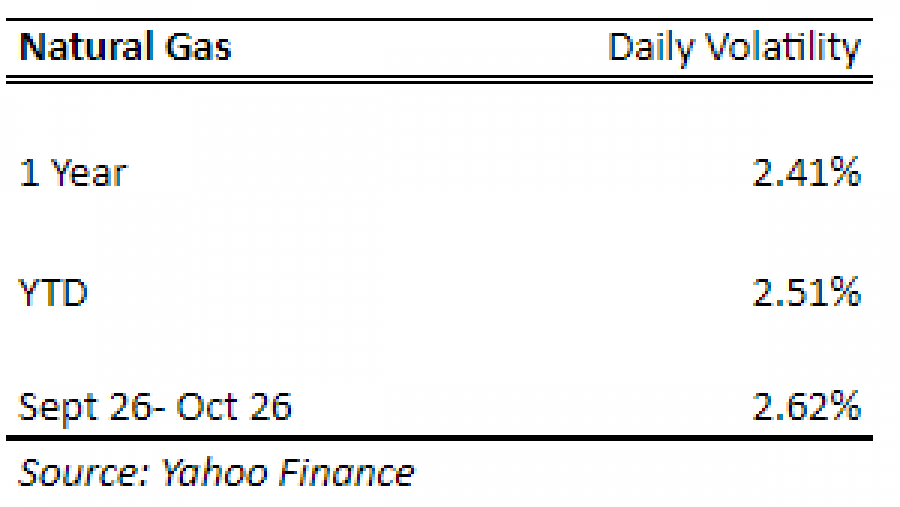 Example of calculation based on Volatility for 1.00 Lot (1 lot = 1000 units)

Technical Outlook (Natural Gas, Weekly, 2019-2020)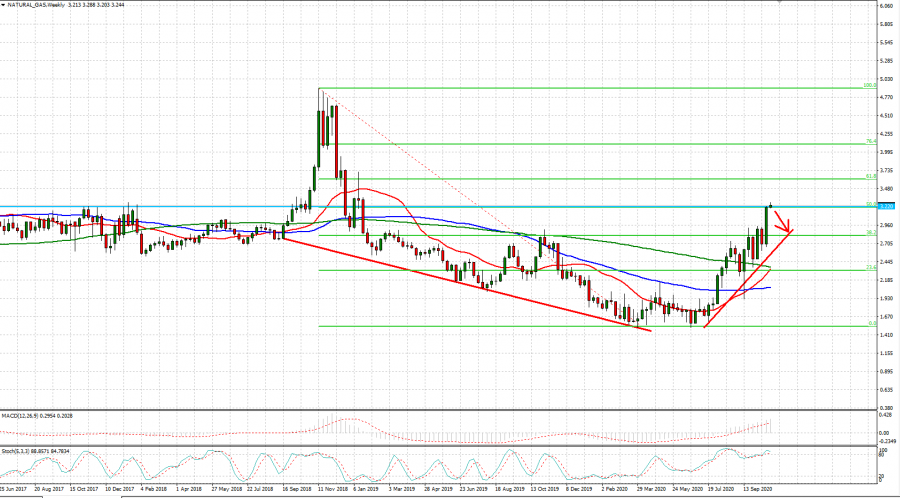 Graph: (Natural Gas, Weekly)
Current Price: 3.25
| | |
| --- | --- |
| Natural Gas | Weekly |
| Trend direction | |
| | 4.11 |
| | 3.82 |
| | 3.55 |
| | 2.94 |
| | 2.62 |
| | 2.35 |
Example of calculation based on weekly trend direction for 1.00 Lot*
Natural Gas

Pivot Points

Profit or loss in $

-8,650.00

-5,740.00

-3,000.00

3,140.00

6,250.00

8,990.00

Profit or loss in €**

-7,321.45

-4,858.40

-2,539.23

2,657.73

5,290.06

7,609.23

Profit or loss in £**

-6,642.86

-4,408.09

-2,303.88

2,411.40

4,799.75

6,903.97

Profit or loss in C$**

-11,407.10

-7,569.57

-3,956.22

4,140.84

8,242.13

11,855.47
* 1.00 lot is equivalent of 10000 units
** Calculations for exchange rate used as of 09:20 (GMT) 27/10/2020
Fortrade recommends the use of Stop-Loss and Take-Profit, please speak to your Senior Account Manager regarding their use.
*** You may wish to consider closing your position in profit, even if it is lower than suggested one
**** Trailing stop technique can protect the profit – Ask your Senior Account Manager for more details