TREND: UP
Fundamental Overview:
Palladium is most heavily used in the production of catalytic converters integrated into vehicles to curb gas emission and air pollution. As the car industry suffered a big decline during the Coronavirus crisis, the Palladium prices jumped in volatility as that implied lower demand for Palladium, but also supply curbs as some palladium miners had to close in South Africa due to lockdown measures.
Car sales in China, the world's biggest car market, increased 11.6 percent year-on-year to 2.19 million in August 2020, the fifth straight month of increase, as the vehicle market came off lows hit during the coronavirus lockdown. What is more important for the Palladium price is that the sales of vehicles which dominantly use diesel such as trucks, vans and other commercial vehicles, which account for around a quarter of the overall market, surged 41.6 in August from July, giving strong tail wind to the price of Palladium.
According to the newest economic data from China (Tuesday, September 15), the world's biggest importer of Palladium, Industrial production grew 5.6% in August from the year ago, while Retail sales rose 0.5% for the same period, suggesting that the China economy is recovering from slump caused by the Coronavirus lockdown in the first quarter of the year.
Expected new stimulus measures in the US which should be presented by the end of the month, will probably influence for the US Dollar to decrease and may give additional support to the further Palladium price increase.
Technical Overview:
Palladium prices increased more than 70% or almost $1000 from year low's in late March 2020, but the price is still more than 15% below year high's recorded in February, before the Coronavirus crisis started.
From a technical perspective, according to the Daily chart, Palladium could remain on the upside as long as it manages to stay above its uptrend line. Likewise, Palladium is trading above its 50, 100 and 200 Daily Moving Average, suggesting that over the mid run the Palladium prices could remain on the upside.
The Daily Relative Strength Index is in upside movement, with a current value of 62, supporting price increase but there is plenty room for further rise to the level of 70 which can be considered a first Resistance level.
If price manages to stay above the 50-day Moving average in the next period, it may reach Resistance 1 level of $2450.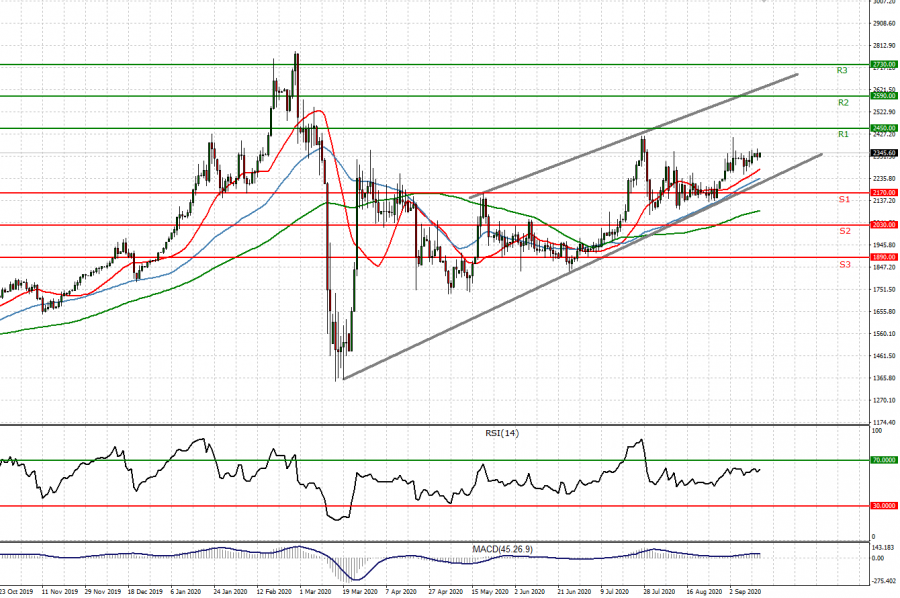 Graph: (Palladium, Daily)
Current Price: 2,310.0
| | |
| --- | --- |
| Palladium | Weekly |
| Trend direction | |
| | 2,730.0 |
| | 2,590.0 |
| | 2,450.0 |
| | 2,170.0 |
| | 2,030.0 |
| | 1,890.0 |
Example of calculation based on weekly trend direction for 1.00 Lot*
Palladium

Pivot Points

Profit or loss in $

42,000.00

28,000.00

14,000.00

-14,000.00

-28,000.00

-42,000.00

Profit or loss in €**

35,341.04

23,560.69

11,780.35

-11,780.35

-23,560.69

-35,341.04

Profit or loss in £**

32,581.12

21,720.75

10,860.37

-10,860.37

-21,720.75

-32,581.12

Profit or loss in C$**

55,236.72

36,824.48

18,412.24

-18,412.24

-36,824.48

-55,236.72
* 1.00 lot is equivalent of 100 units
** Calculations for exchange rate used as of 10:25(GMT+1) 15/01/2020
Fortrade recommends the use of Stop-Loss and Take-Profit, please speak to your Senior Account Manager regarding their use.
*** You may wish to consider closing your position in profit, even if it is lower than suggested one
**** Trailing stop technique can protect the profit – Ask your Senior Account Manager for more details