MID-TERM TREND: UP
Palladium Market Overview:
Palladium is most heavily used in the production of catalytic converters integrated into vehicles to curb gas emission and air pollution. As the car industry suffered a big decline during the Coronavirus crisis, the Palladium prices jumped in volatility as that implied lower demand for Palladium, but also supply curbs as some palladium miners had to close in South Africa due to lockdown measures.
Palladium prices fell from its all-time high of 2787.85 to test briefly levels below 1400 (1352.60) in mid-March, 2020, marking a decline of 51.48%. With time, however, the Palladium prices have managed to recover and retest levels above 2000.
As of November 3, Palladium was trading slightly above the mark of 2200.
Fundamentals that could support higher Palladium prices:
A weak US dollar amid expectations for an additional stimulus package in the US.
China's auto sales continued to climb into the end of the year
China GDP continued to recover in the third quarter to signal stronger economic activity.
China is reopening auto plants and with stricter emission regulations, the car industry in China should demand more and more Palladium.
South Africa, the second-biggest palladium producer, has also seen a tough battle with new coronavirus cases. Therefore, mines are facing delays in bringing thousands of workers back.
Mid-Term Technical Outlook
From a technical perspective, Palladium could remain on the upside as long as it manages to stay above its uptrend line. Likewise, Palladium is trading above its 155 Day Exponential Moving Average, suggesting that over the mid run the Palladium prices could remain on the upside.
In addition, the Daily Relative Strength Index has recently fallen close to its oversold threshold of 30, to suggest a possible upward recovery.
To the upside, Palladium could be expected target Resistance 1 of 2350 and Resistance 2 of 2420 in extension.
If, however, Palladium happens to break below uptrend line to the downside, Palladium may extend its declines towards its Support 1 of 2132 and Support 2 of 2070 in extension.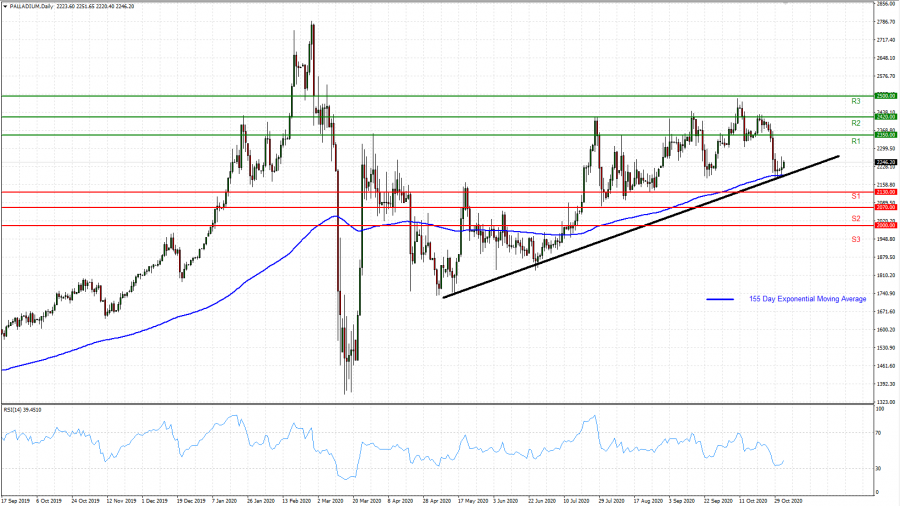 Graph: (Palladium, Daily)
Current Price: 2240
| | |
| --- | --- |
| Palladium | Mid-Term |
| Trend direction | |
| | 2500 |
| | 2420 |
| | 2350 |
| | 2132 |
| | 2070 |
| | 2000 |
Example of calculation based on trend direction for 1.00 Lot*
Palladium

Pivot Points

Profit or loss in $

26,000.00

18,000.00

11,000.00

-10,800.00

-17,000.00

-24,000.00

Profit or loss in €**

22,318.55

15,451.31

9,442.47

-9,270.78

-14,592.90

-20,601.74

Profit or loss in £**

17,265.60

13,924.78

8,509.58

-8,354.87

-13,151.18

-18,566.37

Profit or loss in C$**

34,561.80

23,927.40

14,622.30

-14,356.44

-22,598.10

-31,903.20
* 1.00 lot is equivalent of 100 units
** Calculations for exchange rate used as of 9:12 a.m. (GMT) 03/11/2020
Fortrade recommends the use of Stop-Loss and Take-Profit, please speak to your Senior Account Manager regarding their use.
*** You may wish to consider closing your position in profit, even if it is lower than suggested one
**** Trailing stop technique can protect the profit – Ask your Senior Account Manager for more details