TREND: UP
Fundamental Overview:
Palladium exceeded $2,000 per ounce on Tuesday, boosted by rising tensions in the Middle East, while risk-off sentiment dominates the market. Precious metals continue to increase their profits fueled by investors' risk aversion following escalating tensions in the Middle East following the death of Commander Qassem Soleimani. The statement of U.S. President Donald Trump this weekend, argued that the assassination of the Iranian general would prevent future attacks and make the Middle East safer. However, President Trump's actions appeared to have had the opposite effect due to the increase in protests in reaction to the death of General Soleimani.
Iran, for its part, also helped to escalate tensions by declaring that it is abandoning the limits on uranium enrichment established in the nuclear agreement signed in 2015. Evidently, the increase in tensions has begun to hit the markets, raising risk and volatility, a situation likely to last for a long time.
Technical Overview:
The price of Palladium has been increasing for the past 15 consecutive days reaching an all-time high. 20-day, 50-day and 100-day Moving averages are all well below the current price signaling a further upward trend. The Daily Relative Strength Index has broken above the level of 75, indicating that the price of Palladium is overvalued. Similarly, the Relative Strength Index and Stochastic indicators are above the 80 level indicating the price is overvalued too, meaning that the price of Palladium could decrease in the following period. The price may continue to move up to R1(2117.19) in the following period, but if the strength of the uptrend decreases there is also a possibility of a mild correction in the week ahead and in that case the price could go down to S1(1988.31). Previous price movement patterns show that approximately 4-5 weeks of rises are usually followed by a week or two of consolidation or correction in price. To conclude, the dominant Palladium trend remains bullish. However, a consolidation of the complex corrective structure is very likely in the coming trading sessions.
| | |
| --- | --- |
| Pivot Line: | 2051.50 |
| Resistance 3: | 2261.22 |
| Resistance 2: | 2190.47 |
| Resistance 1: | 2117.19 |
| Support 1: | 1988.31 |
| Support 2: | 1920.08 |
| Support 3: | 1851.85 |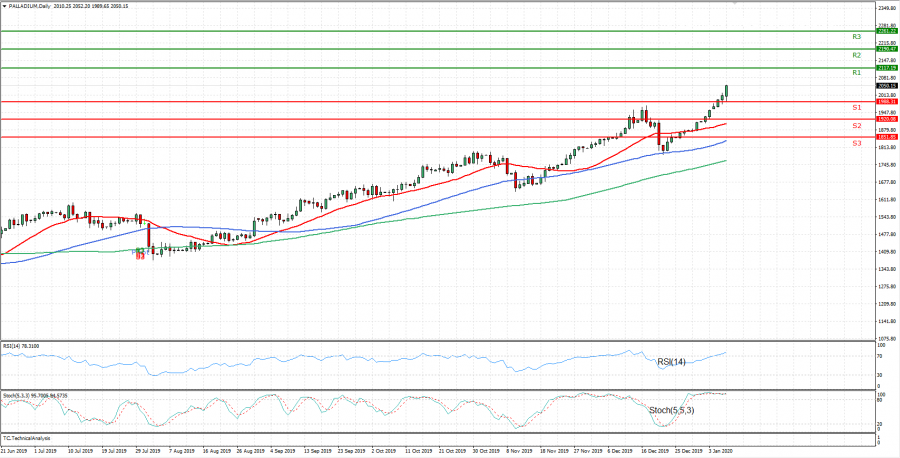 Graph: (Palladium, Daily)
Example of calculation based on weekly trend direction for 1.00 Lot*
Palladium

Pivot Points

Profit or loss in $

20,972.00

13,897.00

6,569.00

-6,319.00

-13,142.00

-19,965.00

Profit or loss in €**

18,725.00

12,408.04

5,865.18

-5,641.96

-11,733.93

-17,825.89

Profit or loss in £**

15,984.76

10,592.23

5,006.86

-4,816.31

-10,016.77

-15,217.23
* 1.00 lot is equivalent of 100 units
** Calculations for exchange rate used as of 10:10(GMT) 8/1/2020
Fortrade recommends the use of Stop-Loss and Take-Profit, please speak to your Senior Account Manager regarding their use.
*** Please consider closing your position in profit, even if it is lower than suggested one
**** Trailing stop technique can protect the profit – Ask your Senior Account Manager for more details