MID-TERM TREND: UP
Company description:
Pfizer Inc. (Pfizer) is a research-based global biopharmaceutical company. The Company is engaged in the discovery, development and manufacture of healthcare products. Its global portfolio includes medicines and vaccines. In March 2020 Pfizer and German biotechnology company BioNTech unveiled the co-development and distribution of a potential coronavirus vaccine.
Fundamental overview
Pfizer and BioNTech announced plans that it would file for emergency use authorization for its COVID-19 vaccine to the US Food and Drug Administration (FDA) next month. The chief executive of Pfizer said that the company would not apply for authorization of the vaccine before the third week of November, ruling out President Trump's assertion that a vaccine would be ready before Election Day on Nov. 3.
The companies have started manufacturing hundreds of thousands of Covid-19 vaccines ahead of expected U.S. approval in November. They hope to make 100 million doses available this year, if the vaccine is granted regulatory approval, and plan to manufacture 1.3 billion in 2021.
To acquire an emergency use authorization (EUA) from the FDA, the companies must submit two months of safety data from the test conducted on the participants following the final dosing of the vaccine.
Pfizer CEO Albert Bourla said that based on their current trial enrollment and dosing pace, they estimate they will reach the milestone in the third week of November.
In July the US announced it will pay Pfizer up to $2 billion for a December delivery of 100 million doses of COVID-19. The US could buy a further 500 million doses under the agreement.
In July, Pfizer was given fast track status from the FDA.
Earlier last week, the companies entered into an agreement with the New Zealand Government to supply 1.5 million doses of their potential Covid-19 vaccine.
In September the European Commission concluded exploratory talks with Pfizer-BioNTech to purchase up to 300 million doses of a potential vaccine against COVID-19.
Pfizer will publish its quarterly earnings results on October 27th.
Pfizer price daily volatility
Average Daily stock price volatility is 1.09% per day in 2020.
Since the beginning of the year when the Coronavirus crisis started to hit the stock markets, the average daily volatility has risen to 1.20 %.
As of September 20, Daily Volatility has averaged 0.90%.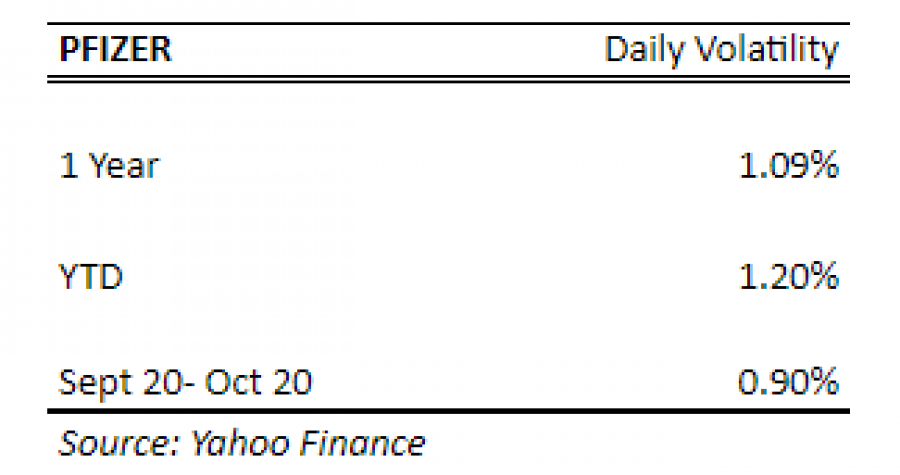 Example of calculation based on Volatility for 1.00 Lot (1 lot = 1 000 stocks)

Technical Outlook (Pfizer, Daily, 2019-2020)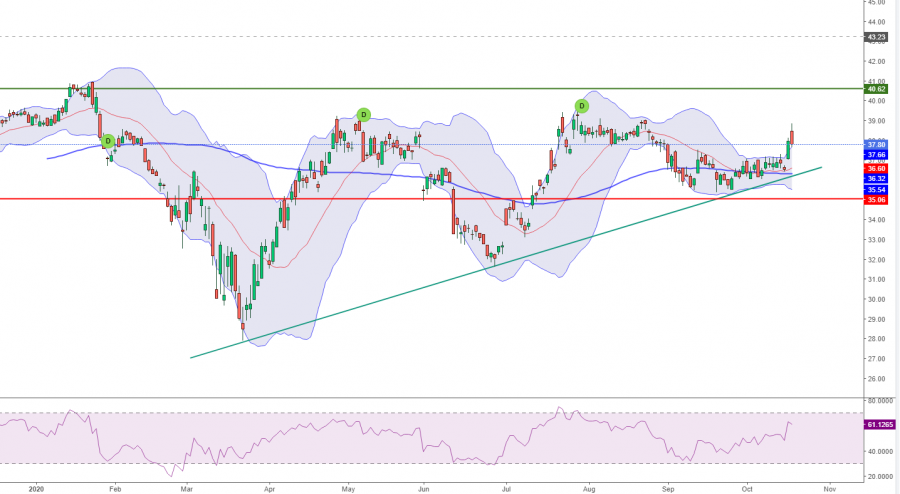 Graph: (PFIZER, Daily)
Current Price: 37.60
| | |
| --- | --- |
| PFIZER | Weekly |
| Trend direction | |
| | 42.71 |
| | 41.49 |
| | 40.62 |
| | 35.06 |
| | 34.25 |
| | 33.05 |
Example of calculation based on weekly trend direction for 1.00 Lot*
PFIZER

Pivot Points

Profit or loss in $

5,110.00

3,890.00

3,020.00

-2,540.00

-3,350.00

-4,550.00

Profit or loss in €**

4,336.31

3,301.03

2,562.75

-2,155.43

-2,842.79

-3,861.10

Profit or loss in £**

3,926.15

2,988.79

2,320.35

-1,951.55

-2,573.89

-3,495.89

Profit or loss in C$**

6,720.93

5,116.32

3,972.06

-3,340.74

-4,406.09

-5,984.39
* 1.00 lot is equivalent of 1000 units
** Calculations for exchange rate used as of 10:30(GMT+1) 20/10/2020
Fortrade recommends the use of Stop-Loss and Take-Profit, please speak to your Senior Account Manager regarding their use.
*** You may wish to consider closing your position in profit, even if it is lower than suggested one
**** Trailing stop technique can protect the profit – Ask your Senior Account Manager for more details