TREND: UP
Fundamental Overview:
Silver fell on Thursday to $22, its lowest level in more than two months, crippled by a robust dollar and due to increasing uncertainties surrounding further stimulus measures to support a sluggish economic recovery in the United States.
The Fed's governing board made that vow last week at its regularly scheduled policy meeting, promising to leave rates at their current near-zero levels until the economy reaches full employment, inflation has risen to 2%, and is on track to moderately exceed that level.
Rising market uncertainty over World economic recovery caused by coronavirus early this year, will probably force investors to shift their risky assets and increase demand for safe-haven assets such as Gold and Silver. Increasing demand for safe-haven assets will have a positive effect on the Silver price.
Expected new stimulus measures in the US which should be presented before November elections in the US, will possibly influence for the US Dollar to decrease and may give strong backwind to Silver price go up.
Technical Overview
Silver lost more than 25% since early August, but despite this drop, it still remained above the positive trend line, suggesting that the price has found support around the level of $22.
The Daily Relative Strength Index is at level of 25, well below 30, and from a Technical perspective, the current price may be considered as oversold. The RSI value below 30 for Silver is a pretty rare situation, suggesting there is a high possibility the price of Silver may bounce back from current levels.
If price manages to stay above the positive trend line (above $21.50) in the next period, the price may bounce back and reach Resistance 1 level of $24.35.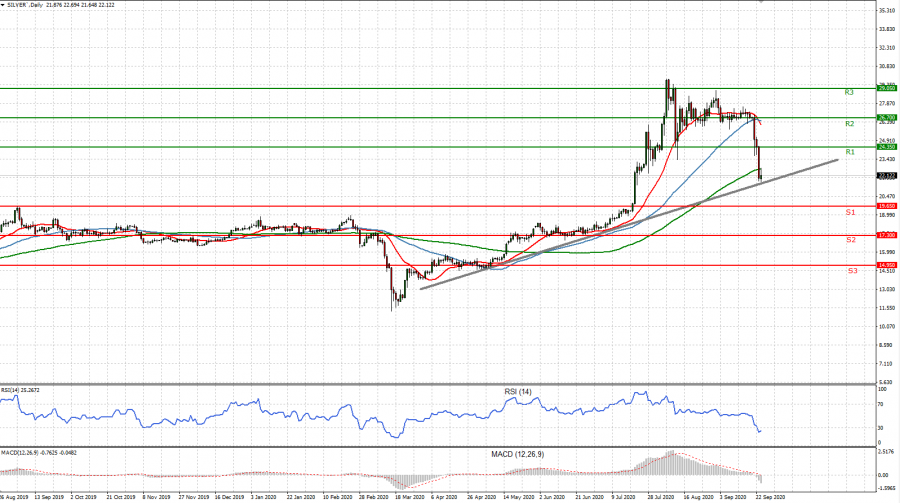 Graph: (Silver, Daily)
Current Price: 22.00
| | |
| --- | --- |
| SILVER | Weekly |
| Trend direction | |
| | 29.05 |
| | 26.70 |
| | 24.35 |
| | 19.65 |
| | 17.30 |
| | 14.95 |
Example of calculation based on weekly trend direction for 1.00 Lot*
SILVER

Profit or loss in $

70,500.00

47,000.00

23,500.00

-23,500.00

-47,000.00

-70,500.00

Profit or loss in €**

60,416.49

40,277.66

20,138.83

-20,138.83

-40,277.66

-60,416.49

Profit or loss in £**

55,389.69

36,926.46

18,463.23

-18,463.23

-36,926.46

-55,389.69

Profit or loss in C$**

94,448.85

62,965.90

31,482.95

-31,482.95

-62,965.90

-94,448.85
* 1.00 lot is equivalent of 10000 units
** Calculations for exchange rate used as of 10:35(GMT+1) 24/09/2020
Fortrade recommends the use of Stop-Loss and Take-Profit, please speak to your Senior Account Manager regarding their use.
*** You may wish to consider closing your position in profit, even if it is lower than suggested one
**** Trailing stop technique can protect the profit – Ask your Senior Account Manager for more details