MID-TERM TREND: UP
Company: Tesla Inc. designs, manufactures, and sells high-performance electric vehicles and electric vehicle powertrain components. Tesla sells more than five fully electric cars, among others, the Model S sedan and the Model X SUV, and the Model 3 sedan, which is among the world's top-selling electric cars.
Tesla Battery Day Event (September 22): Tesla CEO Elon Musk has said the U.S. electric car maker may be able to mass produce longer-life batteries with 50% more energy density in three to four years. Tesla said Battery Day will take place on the same day as its 2020 annual meeting of shareholders on September 22.
Tesla Posts Better Than Expected Earnings for Quarter Two (Q2): The world's leading electric car manufacturer posted $2.18 earnings per share, far better than the 3 cents per share predicted by analysts. Revenue rose to $6.04 billion in the second quarter, also better than the $5.37 billion analysts predicted prior to the report.
Shanghai Business Expectations: Tesla's Shanghai production has assumed the role of growth engine as the large potential market of early adopters drives a surge in demand and makes China the company's most important and voluminous market. According to Bloomberg, around 26,500 made-in-China Model 3 vehicles have been registered in the country over the last two months, an annualized rate of around 160,000 vehicles.
What is a Stock Split: According to Investopedia, a stock split is a decision by a company's board of directors to increase the number of shares that are outstanding by issuing more shares to current shareholders. For example, in a 2-for-1 stock split, an additional share is given for each share held by a shareholder. So, if a company had 10 million shares outstanding before the split, it will have 20 million shares outstanding after a 2-for-1 split. After a split, the stock price will be reduced. In the example of a 2-for-1 split, the share price will be halved.
Does Tesla Stock Split 5-to-1 (August 31, 2020) make it better available to retail investors?: Tesla share experienced a stock split of 5-to-1, opening at 442 on Monday (August 31) after the stock closed at 2213 the previous session. The Tesla shares had risen almost 40% since Tesla announce the split (August 11), to hit a fresh all-time high of $2317.98. Investors and traders continued to buy Tesla believing that the split might make the stock better available for the retail investors and traders.
Tesla Inc. stock price daily volatility
Daily stock price volatility increased to 7.13% per day in 2020.
Since mid-February 2020, when the Coronavirus crisis started to hit the stock markets, the average daily volatility has risen to 7.22%.
As of September 4, five-day Moving Average Daily Volatility has stood at 13.28%.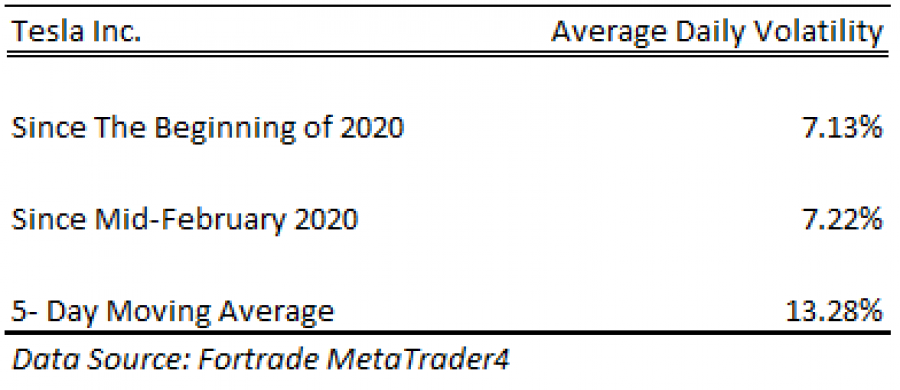 Example of calculation based on Volatility for 1.00 Lot (1 lot = 1000 stocks)

Technical Outlook (Tesla Inc., Daily, 2019-2020)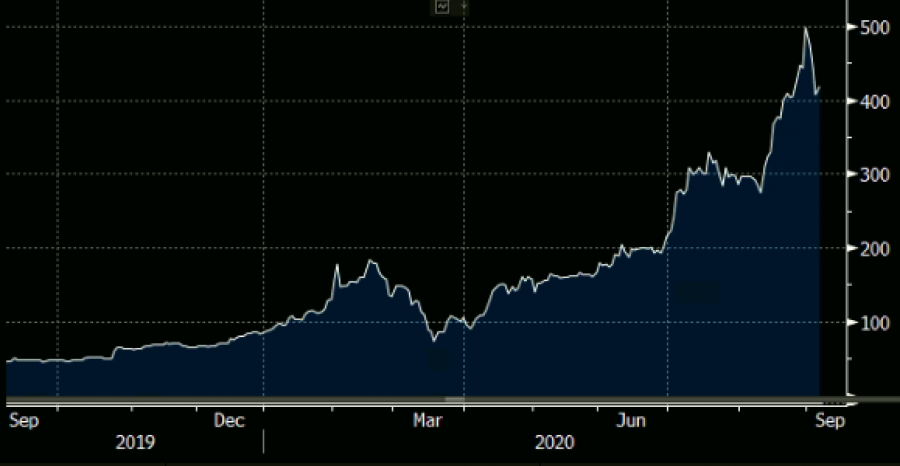 Source: Bloomberg
Current Price: 351.00
| | |
| --- | --- |
| Tesla Inc. | Mid-Term |
| Trend direction | |
| | 550.00 |
| | 520.00 |
| | 451.00 |
| | 251.00 |
| | 220.00 |
| | 200.00 |
Example of calculation based on trend direction for 1.00 Lot*
Tesla Inc.

Pivot Points

Profit or loss in $

215,000.00

167,000.00

100,000.00

-100,000.00

-131,000.00

-151,000.00

Profit or loss in €**

182,357.93

141,645.46

84,817.64

-84,817.64

-111,111.11

-128,074.64

Profit or loss in £**

165,006.37

128,167.74

76,747.15

-76,747.15

-100,538.76

-115,888.19

Profit or loss in C$**

282,987.30

219,808.74

131,622.00

-131,622.00

-172,424.82

-198,749.22
* 1.00 lot is equivalent of 1000 units
** Calculations for exchange rate used as of 13:08 (GMT+1) 08/09/2020
Fortrade recommends the use of Stop-Loss and Take-Profit, please speak to your Senior Account Manager regarding their use.
*** You may wish to consider closing your position in profit, even if it is lower than suggested one
**** Trailing stop technique can protect the profit – Ask your Senior Account Manager for more details