MID-TERM TREND: UP
COMPANY: Tesla Inc. designs, manufactures, and sells high-performance electric vehicles and electric vehicle powertrain components. Tesla sells more than five fully electric cars, among others, the Model S sedan and the Model X SUV, and the Model 3 sedan, which is among the world's top-selling electric cars.
TESLA TO BE INCLUDED IN THE S&P 500 INDEX: According to Reuters, Tesla Inc. is set to join the S&P 500 in December anticipating a $51 billion trade by index funds adjusting their holdings. S&P Dow Jones Indices announced that the company would join the S&P 500 index prior to the opening of trading on December 21, potentially in two tranches making it easier for investment funds to digest. Its inclusion means investment funds indexed to the S&P 500 will have to sell about $51 billion worth of shares of companies already in the S&P 500 and use that money to buy shares of Tesla, so that their portfolios correctly reflect the index, according to S&P Dow Jones Indices. Tesla will account for about 1% of the index.
Additionally, actively managed investment funds that try to beat the S&P 500 will be forced to decide whether to buy Tesla shares. Such funds manage trillions of dollars in additional assets.
Tesla shares rose around 13% on Monday Aftermarket (November 16, 2020).
TESLA CAR DELIVERY (Q3): Tesla Inc. beat Wall Street estimates for third-quarter vehicle deliveries, driven by higher demand for its mass-produced Model 3 sedans. The electric-car maker delivered 139,300 vehicles in the quarter, beating estimates of 134,720 vehicles, according to Refinitiv data. Its total production in the quarter rose 76% to 145,036 vehicles compared to the previous three-month period.
TESLA POSTS BETTER THAN EXPECTED EARNINGS FOR QUARTER THREE (Q3): The world's leading electric car manufacturer posted $0.76 earnings per share, better than the $0.57 per share predicted by analysts. Revenue rose to $8.77 billion in the third quarter, also better than the $8.36 billion analysts predicted prior to the report.
Tesla Inc. stock price daily volatility
Daily stock price volatility increased to 6.68% per day in 2020.
Since mid-February 2020, when the Coronavirus crisis started to hit the stock markets, the average daily volatility has risen to 6.68%.
As of November 16, the five-day Moving Average Daily Volatility has stood at 3.84%.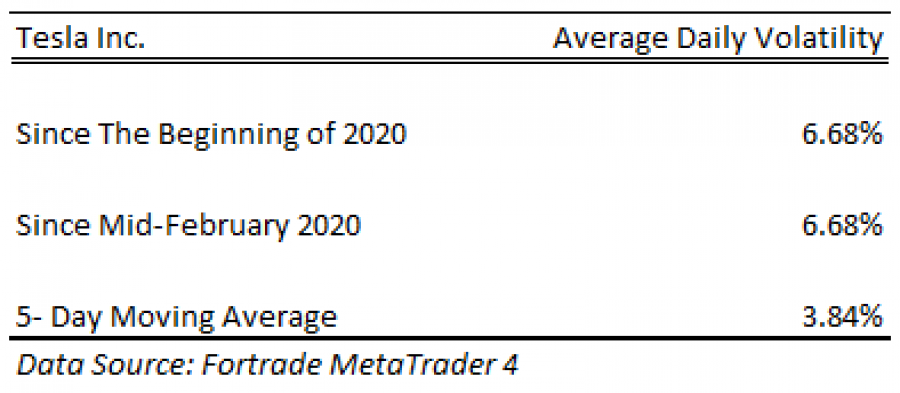 Example of calculation based on Volatility for 1.00 Lot (1 lot = 1000 stocks)

Technical Outlook (Tesla Inc., Daily, 2019-2020)


Source: Bloomberg
Current Price: 449
| | |
| --- | --- |
| Tesla Inc. | Mid-Term |
| Trend direction | |
| | 566 |
| | 543 |
| | 500 |
| | 400 |
| | 379 |
| | 335 |
Example of calculation based on trend direction for 1.00 Lot*
Tesla Inc.

Pivot Points

Profit or loss in $

117,000.00

94,000.00

51,000.00

-49,000.00

-70,000.00

-114,000.00

Profit or loss in €**

98,595.23

79,213.26

42,977.41

-41,292.02

-58,988.60

-96,067.15

Profit or loss in £**

74,604.06

71,126.98

38,590.17

-37,076.83

-52,966.90

-86,260.39

Profit or loss in C$**

152,973.99

122,902.18

66,680.97

-64,066.03

-91,522.90

-149,051.58
* 1.00 lot is equivalent of 1000 units
** Calculations for exchange rate used as of 9:05 a.m. (GMT) 17/11/2020
Fortrade recommends the use of Stop-Loss and Take-Profit, please speak to your Senior Account Manager regarding their use.
*** You may wish to consider closing your position in profit, even if it is lower than suggested one
**** Trailing stop technique can protect the profit – Ask your Senior Account Manager for more details