WEEKLY TREND: UP
COMPANY: Tesla Inc. designs, manufactures, and sells high-performance electric vehicles and electric vehicle powertrain components. Tesla sells more than five fully electric cars, among others, the Model S sedan and the Model X SUV, and the Model 3 sedan, which is among the world's top-selling electric cars.
TESLA HAS BEEN INCLUDED IN THE S&P 500 INDEX ON DECEMBER 21, 2020: S&P Dow Jones Indices announced that the company joined the S&P 500 index prior to the opening of trading on December 21. Its inclusion meant investment funds indexed to the S&P 500 will have to sell about $100 billion worth of shares of companies already in the S&P 500 and use that money to buy shares of Tesla, so that their portfolios correctly reflect the index. Tesla accounts for about 1.5% of the index.
Additionally, actively managed investment funds that try to beat the S&P 500 will be forced to decide whether to buy Tesla shares. Such funds manage trillions of dollars in additional assets.
TESLA CAR DELIVERY (Q4) (DATA EXPECTED TO BE RELEASE IN EARLY JANUARY): Tesla is very likely to break another record and deliver in total 500,000 vehicles in 2020. Analysts expect the company to make a delivery of around 180,000 in quarter four (Q4). Some believe that the fourth quarter delivery number could come in at between 190,000 and 200,000, which would be an absolute record for Tesla. Analysts also said that Tesla could by 2022 deliver one million vehicles, as the China market continues to expand.
TESLA WINS APPROVAL TO SELL MODEL Y IN CHINA: Tesla won Chinese authorities' approval to start selling Shanghai-assembled Model Y SUVs in the country, according to a statement on the website of the Ministry of Industry and Information Technology. The approval is the final major regulatory step before the U.S. carmaker can begin sales of the new model. With that being said, Tesla's market is to expand further, which could bode well for its stock.
TESLA TO START DELIVERING MODEL 3 IN INDIA: Tesla will also launch Model 3 in India in June, with bookings to start in January. India is the second largest country in the world by population after China, which could bode well for Tesla's aspiration to continue to expand globally.
ANALYSTS OPINION: Morgan Stanley gave Tesla an overweight rating for the first time in more than three years. In addition, Wedbush analyst Dan Ives boosted his base-case price target to $715, and said he envisions a (bull- case) scenario in which the electric vehicle market leader's stock reaches $1,000. Goldman Sachs upgraded Tesla to Buy from Neutral, with a price target of $780.
Tesla Inc. stock price daily volatility
Daily stock price volatility increased to 6.58% per day in 2020.
Since mid-February 2020, when the Coronavirus crisis started to hit the stock markets, the average daily volatility has risen to 6.56%.
As of December 30, the five-day Moving Average Daily Volatility has stood at 5.53%.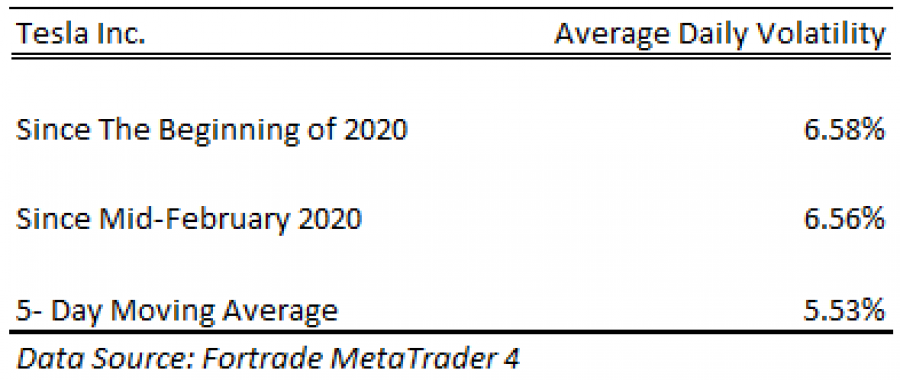 Example of calculation based on Volatility for 1.00 Lot (1 lot = 1000 stocks)

Technical Outlook (Tesla Inc., Daily, 2019- 2020)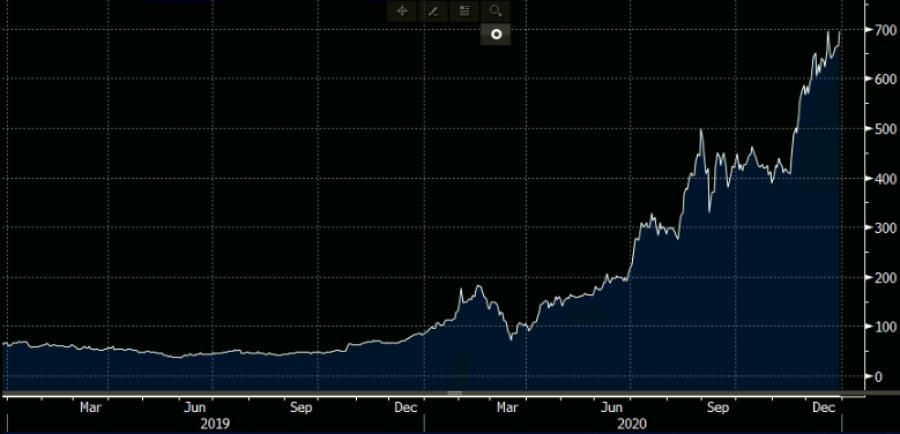 Source: Bloomberg
Current Price: 690
| | |
| --- | --- |
| Tesla Inc. | Weekly |
| Trend direction | |
| | 950 |
| | 850 |
| | 780 |
| | 600 |
| | 562 |
| | 510 |
Example of calculation based on trend direction for 1.00 Lot*
Tesla Inc.

Pivot Points

Profit or loss in $

260,000.00

160,000.00

90,000.00

-90,000.00

-128,000.00

-180,000.00

Profit or loss in €**

211,445.72

130,120.44

73,192.75

-73,192.75

-104,096.35

-146,385.50

Profit or loss in £**

190,315.85

117,117.45

65,878.56

-65,878.56

-93,693.96

-131,757.13

Profit or loss in C$**

331,333.60

203,897.60

114,692.40

-114,692.40

-163,118.08

-229,384.80
* 1.00 lot is equivalent of 1000 units
** Calculations for exchange rate used as of 9:18 a.m. (GMT) 31/12/2020
Fortrade recommends the use of Stop-Loss and Take-Profit, please speak to your Client Manager regarding their use.
*** You may wish to consider closing your position in profit, even if it is lower than suggested one
**** Trailing stop technique can protect the profit – Ask your Client Manager for more details