The Turkish lira fell on reports of possible US sanctions on Turkey: The Turkish lira came under pressure on Wednesday (June 19) after Bloomberg's report that the United States is considering sanctions that could target Turkish defense companies, cutting them off from the U.S. financial system and all that over Ankara's purchase of a Russian defense system. Ankara and Washington have sparred publicly for months over the S-400 missile systems, expected to be delivered to Turkey as early as next month. Washington has said that would trigger U.S. sanctions under CATSAA, a law calling for sanctions against countries procuring military equipment from Russia. The most severe package under discussion would all but cripple the already troubled Turkish economy, Bloomberg reported three people familiar with the matter as saying. According to the people, the U.S. could impose sanctions as early as July, the soonest Turkey could start receiving components of the S-400 system. Ankara has repeatedly said that it will not back down from its Russian order adding that it will take reciprocal steps if the United States imposes sanctions. Meanwhile, Turkish President Tayyip Erdogan and U.S. President Donald Trump have agreed to meet on the sidelines of a G20 meeting set for June 28-29 in Japan.
Technical Outlook
The USD/TRY has been trying to recover toward the mark of 6.00 and all than after it fell earlier this month to its lowest rate in two months (5.66075). The H4 chart below shows that the USD/TRY is trading down at its medium- term lower uptrend channel line, trying to stay above its Weekly Pivot Point of 5.85158. If the pair manages to bounce off its lower uptrend channel line, we can then expect the USD/TRY to remain above its Weekly Pivot Point of 5.85158 and gradually to approach its upper uptrend channel line. In this case, one can expect Resistance 1 of 5.93512 to be next targeted.
If, however, the pair fails to stay above its Weekly Pivot Point of 5.85158 and, moreover, if it breaks below its lower uptrend channel line, one can then expected a sell- off momentum to take lace, which could send the pair down toward Support 1 of 5.77082.
| | |
| --- | --- |
| Pivot Point: | 5.85158 |
| Resistance 3: | 6.09942 |
| Resistance 2: | 6.01588 |
| Resistance 1: | 5.93512 |
| Support 1: | 5.77082 |
| Support 2: | 5.68728 |
| Support 3: | 5.60652 |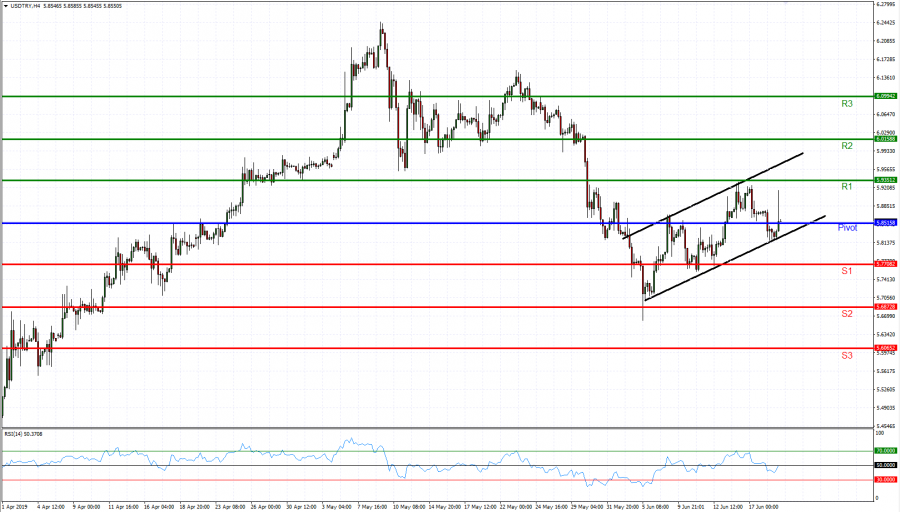 Graph: (USD/TRY, H4)